Which Quarterbacks Were Drafted Ahead of Brady in 2000?
Published on January 17th, 2022 5:16 pm EST
Written By:
Dave Manuel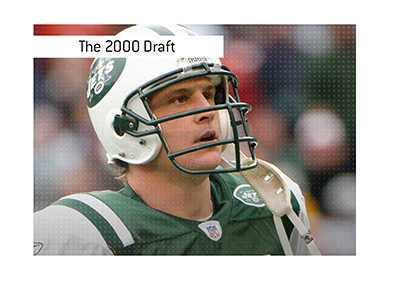 Tom Brady is considered by most to be the greatest NFL quarterback of all time.
Most people are familiar with the fact that Tom Brady plummetted down the draft board before finally being selected by the New England Patriots with the 199th pick (sixth round).
Brady made all of the teams that passed on him pay for it, as he has won seven Super Bowls, five Super Bowl MVPs and three NFL MVP awards, just to name a few.
-
Here are the quarterbacks that were drafted ahead of Tom Brady in the 2000 NFL Draft:
1. Chad Pennington
, 1st Round, 18th Pick
The Jets used one of their four first-round picks on Pennington.
Pennington had a decent NFL career, as he played for a total of 11 seasons with both the Jets and Dolphins.
Pennington wasn't the difference making that the Jets had hoped he would be, however, as Pennington would throw for just 102 touchdowns over his career.
With that being said, Pennington was a decent game manager and didn't turn the ball over very much, and finished his career with a very strong passer rating of 90.1.
Pennington was the NFL's completion percentage leader in two separate years (2002, 2008).
2. Giovanni Carmazzi
, 3rd Round, 65th Pick
The 49ers selected Carmazzi with the 65th overall pick, taking a chance on this Division 1-AA QB from Hofstra.
Carmazzi would never appear in a regular season game in the NFL, and spent some time in NFL Europe and the CFL before leaving the game altogether in 2005.
3. Chris Redman
, 3rd Round, 75th Pick
The Baltimore Ravens selected the QB out of Louisville with the 75th pick in 2000.
Redman would play for four different NFL teams over the course of a career that spanned over a decade - the Ravens, Patriots, Titans and Falcons.
Though Redman would spend most of his time as a backup, he would shine in the few moments where he was replacing an injured starter, and managed to parlay this into a few decent-sized contracts.
Redman would finish his NFL career with just over 3,000 yards and 21 touchdown passes.
4. Tee Martin
, 5th Round, 163rd Pick
Martin was selected in the 5th round by the Pittsburgh Steelers.
Martin wouldn't stay with the Steelers for long, as he would soon find himself in NFL Europe for the 2002 season.
After that, Martin had short stints with the Philadelphia Eagles and Oakland Raiders.
Martin would finish his NFL career with 0 passing TDs, 1 interception and 69 passing yards.
Tee Martin has enjoyed success as a coach - he is currently the wide receivers coach for the Baltimore Ravens.
5. Marc Bulger
, 6th Round, 168th Pick
Bulger was the 6th round pick of the New Orleans Saints in the 2000 draft.
Bulger was waived by the Saints, though he would sign on with the St. Louis Rams and find a decent amount of success.
Bulger parlayed this success into a four-year, $19.1 million contract.
Bulger's breakthrough season was in 2003, when he took over for a struggling and injured Kurt Warner to lead the Rams to a 12-4 record. Bulger would make the Pro Bowl that year.
Bulger posted his best year in 2006, when he threw for 4,301 passing yards and 24 touchdowns.
In 2007, Bulger received a massive six-year, $62.5 million extension from the Rams, though this would mark the top of his career.
After a few years of struggles, Bulger was released by the Rams. Bulger signed a deal with the Ravens, where he would serve as Joe Flacco's backup before calling it a career.
Bulger was arguably the best quarterback to be taken ahead of Tom Brady in the 2000 Draft.
6. Spergon Wynn
, 6th Round, 183rd Pick
Spergon Wynn was taken by the Cleveland Browns with the 183rd overall pick.
After starting a game for the Browns in the 2000 season, Wynn was sent to the NFL Europe to further develop his skills.
After a short stint with the Minnesota Vikings, Wynn moved to the Canadian Football League, where he remained until his retirement.
Wynn finished his NFL career with 1 passing touchdown, 7 interceptions and 585 passing yards.