David Carr, Vince Evans Top List of Worst QB Seasons Ever
Published on October 22nd, 2021 1:54 pm EST
Written By:
Dave Manuel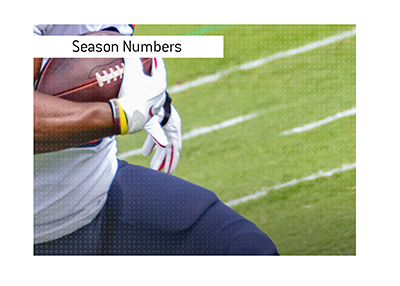 In the modern era of the NFL (16 game season), which quarterback posted the worst stats for a full season of work without being benched or injured?
Some names might immediately pop up on your potential list, including the likes of Geno Smith and Mark Sanchez, who have both posted some phenomenally bad numbers over the course of a season.
-
With that being said, here are the three worst seasons that we have come across by a QB in the modern era of the NFL:
1. Trent Dilfer, 1995.
At the ripe age of 23, Trent Dilfer of the Tampa Bay Buccaneers posted a season for the ages in 1995, and we don't mean that in a good way.
Over the course of a full 16 game season, Dilfer passed for just four touchdowns - four! - while chucking 18 interceptions.
Dilfer completed just 53.98% of his 415 passing attempts, and compiled just 2,774 yards of passing offense.
Dilfer had a passing rating of just 60.1% that season.
Somehow the Buccaneers would go 7-9 that season, despite that starting QB only throwing for 4 touchdowns.
2. Vince Evans, 1981.
In 1981, Vince Evans was the starting quarterback of the Chicago Bears.
Evans would finish the year with a QB rating of just 51.1%, which is the lowest that we came across over the course of our scans.
Evans had a putrid completion rate of just 44.72% while throwing for 11 touchdowns and 20 interceptions.
Over the course of the 16-game season, Evans had just 2,354 yards of passing.
It's not wonder that the Bears finished with a record of just 6-10 that year.
3. David Carr, 2002.
David Carr was not a very good quarterback.
In 2002, Carr was expected to lead the Texans' franchise into the future.
Instead, he was absolutely terrible, posting some truly putrid numbers over the course of the season.
Carr would complete just 52.48% of his passes in 2002, and threw for just 9 touchdown passes. Carr tossed 15 interceptions while compiling a QB rating of 62.8%.
Carr would complete 233 passes in 2002 while passing for just 2,592 yards.
The Texans would stick with Carr for a number of years, and he would reward them for turning in another stinker of a season in 2005, as he would throw for just 2,488 yards that year.
-
Geno Smith had a terrible season in 2013, as he threw for 12 TDs and 21 picks, though he did have over 3,000 yards of passing, which made his season slightly less awful.
Mark Sanchez had a truly awful season in 2009, though he only played 15 games, so he didn't make our final list.