Peyton Manning's Pedigree, Work Ethic Drew Plenty of Scouts
Published on November 19th, 2023 3:02 pm EST
Written By:
Dave Manuel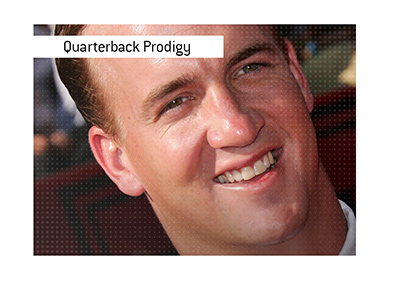 There have been some fantastic high school football quarterback prospects over the years, but none were better (or more highly touted) than Peyton Manning.
Peyton Manning obviously had the pedigree (after all, Archie Manning was his father), though he was also an incredibly gifted quarterback with an even more incredible work ethic.
During his three years as the starting quarterback at Isidore Newman School, Manning led his team to a record of 34-5.
Manning would pass for 7,207 yards over those three years, as well as 92 passing touchdowns and another 13 on the ground.
-
Peyton Manning wasn't just some lazy high school quarterback that was intent on cruising on his last name and God-given talent.
Instead, Manning was obsessed with getting better and better.
As a teenager, Manning was running sprints by himself after games.
As a teenager, Manning was knocking on his coach's front door to get next week's game plan early.
As a teenager, Manning was throwing balls to college players and even wide receivers from the New Orleans Saints.
-
This combination of pedigree, skill and work ethic brought scouts from all over the country to watch Peyton's games.
Scouts were reportedly bowled over by how advanced Peyton was even as a 14 or 15-year old player.
These scouts were from schools such as Michigan, Ole Miss and Florida State, just to name a few.
Peyton, however, wasn't ever satisfied with where he was at, and he parlayed this tremendous work ethic into multiple individual awards, including the Gatorade Circle of Champions Player of the Year and the Columbus Touchdown Club National Offensive Player of the Year.
-
Manning ended up choosing Tennessee to play his college football, which enraged many backers of Ole Miss who figured that he was going there because his father had played there.
This was just another example of Manning going against the grain to continue to push himself to be a better player, and the results obviously proved that Manning made the right decision, as he would become the first overall draft pick and have a storied NFL career.