Texas Tech vs Oklahoma Game Set Many Offensive Records
Published on September 27th, 2021 11:45 pm EST
Written By:
Dave Manuel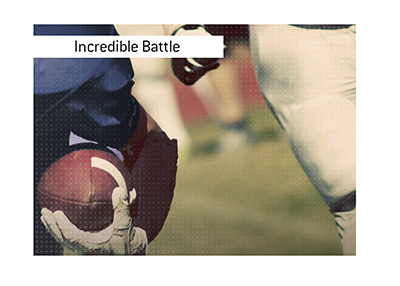 October 22nd, 2016.
For fans of college football, this is a date that many will likely not forget.
The #16 ranked Oklahoma Sooners, led by star quarterback Baker Mayfield, travelled to Lubbock, Texas to take on the 3-3 Texas Tech.
People were expecting a shootout, as the total for the game was set at 85 points, though people had no idea what was in store for them.
-
Oklahoma would end up winning the game 66-59, as the two teams put up an astonishing 125 points. Oklahoma held out a late surge from Texas Tech to eke out the victory.
Baker Mayfield would pass for 7 touchdowns and 545 yards in the game, but his numbers would end up getting overshadowed by Patrick Mahomes.
Mahomes would account for 7 touchdowns himself, as he threw for 5 and ran in two more.
In total, Mahomes passed for 734 yards on the day - that's 734 yards - and rushed for 85 more.
Mahomes would go 52-88 in the game, while throwing just one interception.
What made Mahomes' stats even more impressive was the fact that he was battling multiple injuries, including a separated throwing shoulder and a fractured left wrist.
-
Texas Tech and Oklahoma set a number of combined and individual FBS records that day, including:
-most combined yards of offense in a single game (1,708 yards)
-most combined passing yards in a single game (1,279 yards)
-most total offense in a single game (Patrick Mahomes, 819 yards)
-most passing yards in a single game (Patrick Mahomes, 734 yards)
-
There was a great deal of history heading into this game, as Mayfield had transferred from Texas Tech to Oklahoma following his freshman year.
Mayfield went as though he wasn't treated fairly by the program, as there was a reported dispute over a scholarship and a QB competition heading into Mayfield's second year. In the end, Mayfield left for Oklahoma, and the resulting squabble over his ability to transfer ended up costing him a year of football, as he sat out the next season.
Many Texas Tech fans felt as though Mayfield was a traitor, so there was an especially charged atmosphere when the two teams met in October of 2016. Neither team wanted to yield, which resulted in an incredible back-and-forth battle with seemingly zero defense.
-
In the end, Mayfield and the Sooners won, though Mahomes' performance put him on the radar of many NFL teams, including the Kansas City Chiefs, and the rest is history.