Nurmagomedov Will Enter Saturday Night as Slight Betting Favourite Over Conor McGregor
Published on October 6th, 2018 12:53 am EST
Written By:
Dave Manuel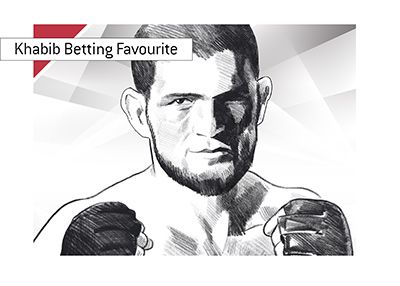 Conor McGregor vs Khabib Nurmagomedov, which is being billed by the UFC as the biggest fight in the promotion's history, is almost upon us.
According to reports, the UFC is trending towards a buy rate of between 2.5-3.0 million PPV buys, which would easily outpace the biggest buyrates in the history of the promotion. Everything has come together perfectly for the UFC - McGregor's star power is brighter than ever, thanks to his fight against Floyd Mayweather, McGregor is fighting a seemingly invincible opponent in Khabib Nurmagomedov, plus there is the whole backstory of the bus/dolly incident. The two men legitimately despite each other and nationalities have been brought into the mix as well, as this has turned into a battle between Ireland and Dagestan/Russia.
There is no hyperbole when Dana White says that this is the biggest fight in the history of the UFC, as this is a true fact.
Surprisingly, there were no issues with injury or weight leading up into the weigh-ins earlier today. Khabib Nurmagomedov easily made weight, while Conor McGregor never has an issue in this regard. With UFC 229 less than 24 hours away, all of the fighters on the card are healthy and have made weight.
-
With Khabib easily making weight, gamblers have decided that he is more likelier to win.
In the hours since the weigh-in, Khabib has moved to as much as a -187 favourite to win, depending on the sports book that you are visiting. McGregor, on the other hand, is roughly a +160 underdog.
In early August, McGregor was almost even money to win this fight, largely due to his rabidly loyal fans putting money down on their favourite fighter. As the fight draws closer, however, the "smart" money seems to favour Khabib. Remember - the smart money will get money down on two different occasions - right when the line is first released (in order to exploit any mispricings of the line), and just before the fight takes place.
-
When the UFC was first conceived, the idea was that you would pit two fighters with very different styles against each other to see who would win. Who would win between a wrestler and a kickboxer? A BJJ expert and a boxer? A karate master and a street fighter?
McGregor vs Khabib feels like that sort of fight, as both are very good at their strengths. Khabib is arguably the best wrestler in the UFC, while McGregor is easily one of the promotion's top strikers.
The question is - will Khabib's wrestling win out, or will Conor finish his Dagestani rival?
We are less than 24 hours from finding out.