Oakland Raiders 3 Point Road Favourites on Sunday Night Football
Published on November 4th, 2017 3:42 am EST
Written By:
Dave Manuel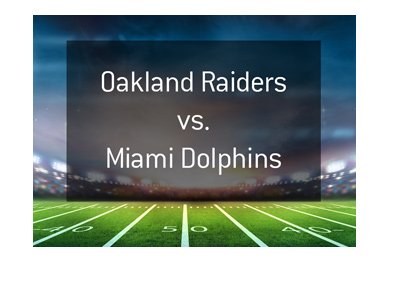 Sunday Night Football will feature a must-win game for both teams as the Oakland Raiders are travelling to Miami to take on the Dolphins.
The Miami Dolphins are a surprising 4-3, despite the fact that they have had Jay Cutler and Matt Moore playing Quarterback for most of the season. Earlier this week, the Dolphins surprised many when they decided to deal Ajayi to the Philadelphia Eagles for a 4th round draft pick. Heading into this season, Ajayi was projected to be one of the top running backs in the league. Despite showing some flashes, Ajayi has disappointed and the Dolphins elected to move on.
This will leave the Dolphins with some big questions at the running back and QB position. The Dolphins have managed to score just 92 points over the course of their first 7 games of the season, and I have a hard time imagining things getting easier after they dealt away Ajayi.
The Oakland Raiders have also had their share of issues, as they have struggled to a 3-5 record so far this season. Their offence has been inconsistent as well, looking sharp against the Chiefs, only to struggle the very next week against the Bills.
The Raiders also have issues at running back, as Marshawn Lynch is coming off of a one-game suspension for touching an official. Derek Carr is heralded as one of the best young QBs in the league, though he has been inconsistent this year, as have his top two pass catching options, Amari Cooper and Derek Crabtree. In particular, Cooper will look like the best receiver in the league one game, only to drop a number of passes the next.
In short - both teams have a wide array of issues to work to fix, and both teams need to make these fixes quickly or else they risk falling out of the playoff race.
-
Here are the odds for Sunday night's game:
Oakland Raiders, -3, 1.90
Miami Dolphins, +3, 1.90
Over/Under
Over 44 points, 1.90
Under 44 points, 1.90
Money Line
Oakland Raiders, 1.64
Miami Dolphins, 2.35
-
How will come out on top on Sunday Night Football?