Would Raiders Give Up One Of Their First Round Picks?
Published on March 5th, 2019 1:41 pm EST
Written By:
Dave Manuel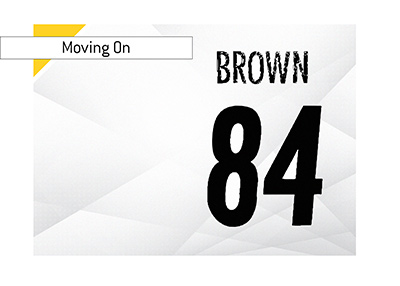 The Oakland Raiders have emerged as the betting favourites to acquire disgruntled wide receiver Antonio Brown.
Antonio Brown made it very clear at the end of the NFL's regular season that he would not be returning to the Pittsburgh Steelers. The reason? A fall-out with Steelers' QB Ben Roethlisberger.
Management tried to see if things could be patched up, though it appears as though both sides are intent on moving on. The Steelers now face the reality that they will be starting next season without the services of both Le'Veon Bell and Antonio Brown.
The San Francisco 49ers were thought to be a possible landing spot for Brown, though their odds to acquire the superstar have dropped out dramatically in recent weeks as a new contender has emerged.
That contender? The Oakland Raiders.
The Raiders are a logical landing spot for Brown for a number of reasons:
1. The Raiders have THREE first round picks in the upcoming NFL draft - the 4th spot, the 24th spot (via Chicago) and the 27th spot (via Dallas). The Steelers' asking price for Brown is reportedly a first round pick. Would the Steelers be happy with the 24th or 27th pick in the draft?
2. The Raiders need a high-end WR following the departure of Amari Cooper.
3. Jon Gruden surely wants a top WR to complement his offensive attack.
4. The Raiders are moving to Las Vegas soon and would love a superstar to help sell the team to fans.
-
Let's take a look at the current betting odds to land Antonio Brown:
Raiders +350
Titans +550
Cardinals +750
Packers +1000
Colts,Browns,49ers,Steelers +1200
Jets,Redskins,Cowboys +1400
Broncos,Dolphins +1600
Bills,Patriots +2000
Saints +2500
The Raiders will continue to hold the top spot thanks to their three first-round picks - they clearly make the most sense as the next landing spot for Brown.
Where do you think the superstar WR will end up?