Tom Brady Involved In Another First Round Pick Forfeiture
Published on August 3rd, 2022 2:32 pm EST
Written By:
Dave Manuel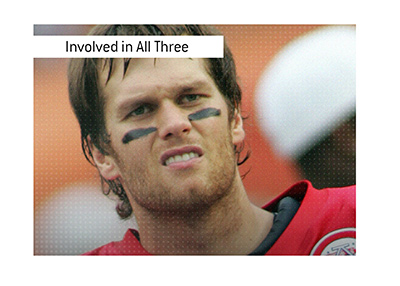 Over the history of the NFL, three teams have had to forfeit first round picks.
In all three cases, Tom Brady was somehow involved.
-
The first time that a team was docked their first-round pick was in 2008.
During a 2007 game, the Patriots were found to be videotaping the New York Jets coaches' signals from the sidelines.
This episode, later named "Spygate", resulted in the Patriots losing their first-round pick (31st pick) in the 2008 NFL Draft.
-
The second time that a team was docked their first-round pick was in 2016, and it also involved the New England Patriots.
This penalty came as a result of "Deflategate", which is when the Patriots were penalized for deflating footballs during the AFC Championship game.
As a result of Deflategate, Tom Brady was suspended four games, while the Patriots were docked their 2016 first-round pick as well as their 2017 fourth-round pick.
The Patriots ended up forfeiting the #29th pick.
-
The third time that a first-round pick was forfeited came in 2022, when the Miami Dolphins were accused of the NFL of tampering.
As a result, the Dolphins will lose their first-round pick in the 2023 NFL Draft.
So how did this story end up involving Tom Brady?
Well, according to reports, the Miami Dolphins were talking to Tom Brady about potentially playing for their team (and possibly becoming a part-owner) while Brady was still under contract with both the New England Patriots and Tampa Bay Buccaneers.
In addition, the Dolphins were accused of tampering with Sean Payton, as they reportedly wanted him to coach the Dolphins. The problem? Payton was still under contract with the Saints, and the Dolphins never received permission to talk to him.
According to reports, Tom Brady was going to "retire" from the Buccaneers, join the Dolphins as a part-owner, "unretire" to play QB for the Dolphins, while Sean Payton would coach the team.
As a result of the Brian Flores investigation, the NFL learned of this plan and brought the hammer down.