Mike Kekich and Fritz Peterson Made The Decision To Entirely Swap Lives
Published on When Two New York Yankees Teammates Decided to Swap Lives
Written By:
Dave Manuel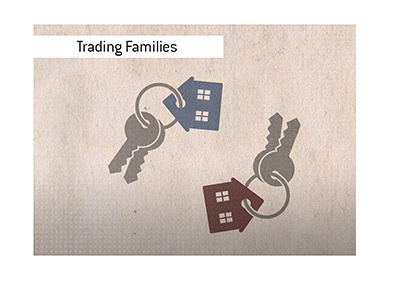 Both Mike Kekich and Fritz Peterson had fairly uneventful careers in Major League Baseball.
Mike Kekich, a left-handed pitcher, finished his career with a record of 39-51.
Fritz Peterson, also a pitcher, would finish his career with a lifetime record of 133-131.
Kekich and Peterson, however, will forever be known for not only swapping lives, but swapping entire lives.
-
In the summer of 1972, Mike Kekich and Fritz Peterson were both living the life - both men had happy families, and both men were playing for the New York Yankees.
That summer, something happened that would change the course of their lives - they would be invited to a barbeque at the house of New York Post writer Maury Allen.
Peterson brought his wife, Marilyn, while Kekich would bring his wife, Susanne.
The two couples had a great time at the BBQ, and decided to head to a local diner to continue the festivities.
A suggestion was made - Marilyn would ride with Mike, while Fritz would ride with Susanne, and the two couples would meet at the diner.
The two couples decided to continue the unusual arrangement at dinner the following evening.
Just like that, Peterson and Susanne were a couple, while Marilyn and Mike were also a couple.
-
Both couples had kids and houses and pets.
The two couples decided on a "husband swap" - Mike would move into the old Peterson family home, and vice versa.
Everyone seemed happy with the arrangement, though now it was time to tell the public.
Both Peterson and Kekich held press conferences to discuss their unusual arrangements, and both men asked for understanding from the public.
They didn't really receive this understanding, as the situation blew up into a major scandal.
Peterson and Kekich would regularly get booed when they were on the road.
-
Did both couples live happily ever after? Sort of.
Mike Kekich and Marilyn Peterson would eventually break up and go their separate ways, though Fritz Peterson and Susanne Kekich would get married, and remain together to this day.
Kekich and Peterson, who had been close friends, no longer speak.