Many Expect Brady and Belichick To Return To Super Bowl Next Year
Published on February 6th, 2018 11:25 am EST
Written By:
Dave Manuel
Click Here To Bet on Super Bowl LIII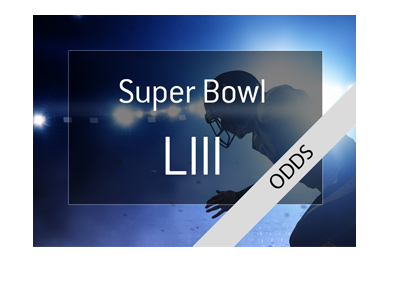 Can Tom Brady lead the New England Patriots to yet another Super Bowl appearance next year, even after an agonizing loss to the Philadelphia Eagles this year?
According to the bookmakers, the answer is: absolutely.
Shortly after Super Bowl LII reached its conclusion with the Philadelphia Eagles winning their first ever Super Bowl, the oddsmakers were hard at work, handicapping the odds for next season's Super Bowl.
Their conclusion? The New England Patriots are still the team to beat, though the Philadelphia Eagles (especially with a healthy Carson Wentz) are nipping at their heels, along with the Pittsburgh Steelers (assuming, of course, that Le'Veon Bell returns to the fold and doesn't retire).
Here are the current odds to win next season's Super Bowl, as well as a few notes:
New England Patriots, 5/1
Philadelphia Eagles, 7/1
Pittsburgh Steelers, 7/1
Minnesota Vikings, 12/1
Green Bay Packers, 12/1
New Orleans Saints, 16/1
Atlanta Falcons, 18/1
Oakland Raiders, 20/1
Dallas Cowboys, 20/1
Jacksonville Jaguars, 20/1
Houston Texans, 20/1
St. Louis Rams, 25/1
Seattle Seahawks, 25/1
San Francisco 49ers, 25/1
Los Angeles Chargers, 25/1
Kansas City Chiefs, 25/1
Carolina Panthers, 30/1
Denver Broncos, 30/1
Indianapolis Colts, 40/1
Tennessee Titans, 40/1
Baltimore Ravens, 40/1
Detroit Lions, 60/1
Tampa Bay Buccaneers, 60/1
Arizona Cardinals, 80/1
New York Giants, 80/1
Washington Redskins, 80/1
Miami Dolphins, 80/1
Cincinnati Bengals, 80/1
Buffalo Bills, 80/1
Chicago Bears, 100/1
New York Jets, 100/1
Cleveland Browns, 100/1
-
The Houston Texans will have Deshaun Watson returning to the fold next season and he proved that he can absolutely electrify the Texans' offence. With a reorganized offence and one of the best defensive players in the league (JJ Watt), the Texans could be good value at 20/1.
The landing spot of Kirk Cousins might shake things up as well. If the Broncos can get their hands on Cousins, they have the weapons to make a decent run and could be good value at 30/1.
Cousins could end up in Jacksonville as well, and they clearly showed that they are ready to take things to the next level, as they very nearly beat the New England Patriots with Blake Bortles running the show at QB.