New York Knicks, Denver Nuggets, Portland Trail Blazers All Came Up Short in Final Game
Published on May 28th, 2023 2:26 pm EST
Written By:
Dave Manuel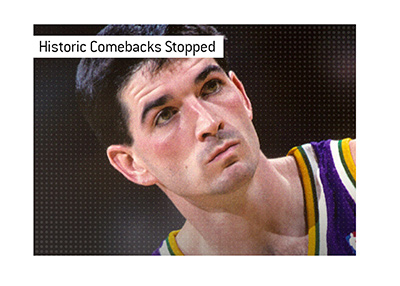 The Boston Celtics are on the verge of history, as they are looking to become the FIRST ever NBA team to come all the way back from 3-0 down in a series.
Three teams have came back from 3-0 down in the past to tie things up at 3-3, though all three teams ended up losing.
-
In 1951, the New York Knicks squared off against the Rochester Royals in the NBA Finals.
The Royals got off to a fantastic start, winning the first three games of the series by scores of 92-65, 99-84 and 78-71.
There was no reason to think that it would be anything other than a short series, as the Knicks didn't have anything for the Royals in the first three games.
The Knicks, however, dug deep, and won the next three games. All three games were close, and the Knicks pulled it out three times in a row.
Game 7 was another closely contested affair, though the Royals would pull out the win by a score of 79-75, putting a stop to the attempted historic comeback by the Knicks.
-
In 1994, the Utah Jazz, led by the likes of Karl Malone and John Stockton, got out to a 3-0 lead against the Denver Nuggets.
The Nuggets would win Game 4 by the narrowest of margins (83-32), and managed to turn this momentum into wins in Game 5 and Game 6.
Karl Malone would put an end to things in Game 7, as he put up 31 points en route to a 91-81 victory.
The overmatched Nuggets very nearly made history, though ended up coming up just short.
-
In 2003, the Portland Trail Blazers very nearly came all the way back from 3-0 down to defeat the Dallas Mavericks.
After losing the first three games of the series, the Trail Blazers came storming back in Game 4, winning by a score of 98-79.
The Trail Blazers would by 103-99 in Game 5, before blowing out the Mavericks 125-103 in Game 6.
The Trail Blazers certainly gave the Mavericks a scare in Game 7, as they were up by 2 points heading into the fourth quarter.
In the fourth, however, Dirk Nowitski and Steve Nash would right the ship, giving the Mavericks a 12-point victory.
-
Can the Celtics become the first NBA team to come all the way back? We'll soon see.