Houston Rockets Biggest Favourite of First Round
Published on April 13th, 2018 11:18 am EST
Written By:
Dave Manuel
Click Here To Bet on NBA Playoffs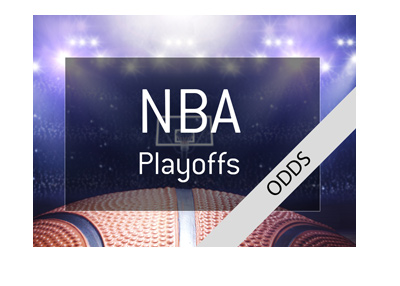 This upcoming weekend, 16 NBA teams will embark on a quest to win the 2017/18 NBA Championship.
There are many questions heading into this year's playoffs - will the Golden State Warriors be able to get past the Houston Rockets with their nagging injury issues? Will LeBron James and the Cavaliers once again appear in the finals? Just how good are the Toronto Raptors?
The Golden State Warriors are still the favourites to win the title, though they are going to have a harder time this year based on the grind of going to the finals three years in a row. Bodies are starting to break down and the Warriors are going to have a very hard time getting past the Rockets if the two teams do end up squaring off in the Conference final.
In the Eastern Conference, the Cavaliers caught a break when Kyrie Irving went down with a season-ending injury. Heading into this season, most expected that the Celtics would give the Cavaliers the most trouble in the playoffs, though the Celtics ended up suffering a couple of key injuries, significantly diminishing their chances of winning.
-
Let's take a look at the first round series odds, courtesy of Bet365:
Source: Bet365
Time Stamp:
April 13th, 2018 11:02 am EST
Odds Subject to Change
Milwaukee Bucks, 7/5
Boston Celtics, 5/8
Miami Heat, 7/2
Philadelphia 76ers, 2/9
San Antonio Spurs, 13/2
Golden State Warriors, 1/10
New Orleans Pelicans, 17/10
Portland Trail Blazers, 1/2
Minnesota Timberwolves, 14/1
Houston Rockets, 1/28
Utah Jazz, 11/10
Oklahoma City Thunder, 10/13
Indiana Pacers, 9/2
Cleveland Cavaliers, 1/6
Washington Wizards, 9/2
Toronto Raptors, 1/6
-
Despite the Cleveland Cavaliers finishing lower than they are usually accustomed to finishing this year, they still have to be considered the favourites to win the Eastern Conference.
The Western Conference, on the other hand, is shaping up to be a dogfight between the Houston Rockets and Golden State Warriors, while a team like the Thunder may end up surprising some people.