The Five Times When a NBA Coach Was Traded
Published on March 30th, 2023 5:40 pm EST
Written By:
Dave Manuel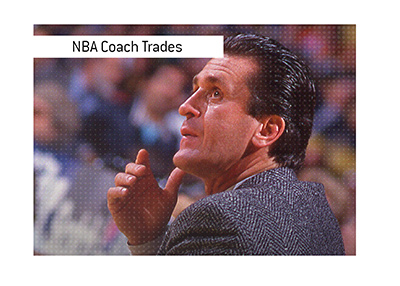 Can the coach of a NBA team be traded?
The answer to that question is: yes.
In fact, there have been five times in the past when a NBA coach has been traded, and some of these trades involved some of the biggest names in the NBA coaching fraternity.
-
First off - NBA coaches can, in fact, be traded.
The return is usually a couple of draft picks for the team that trades them away.
Here are the five NBA coaches that have been traded:
1. Mike Dunleavy, Sr.
Dunleavy, Sr. was traded from the Los Angeles Lakers to the Milwaukee Bucks for two second-round picks.
The Lakers were looking to make a change in the post-Magic Johnson era, while the Bucks were looking for a strong head coach.
2. Pat Riley.
Pat Riley left the New York Knicks for the Miami Heat in 1995.
The NBA investigated the Heat and Riley for tampering, and eventually decided that the Knicks should be compensated with a first-round pick, as well as $1 million cash.
3. Stan Van Gundy.
In 2007, Van Gundy was traded from the Miami Heat to the Orlando Magic.
The agreed-upon price for Van Gundy was two 2nd round picks in the 2008 NBA Draft.
4. Doc Rivers.
In 2013, five years after leading the Boston Celtics to a title, Doc Rivers was traded from the Celtics to the Los Angeles Clippers for a 2015 1st-round pick.
Despite having a loaded team and Doc Rivers as their coach, the Clippers were unable to win a title.
5. Jason Kidd.
In 2014, the Brooklyn Nets traded Jason Kidd to the Milwaukee Bucks for two second-round picks.
-
Some of these trades definitely worked out, while others fell flat.
The trade of a NBA coach usually involves big names that signed long-term contracts, and the team that is trading them away is usually looking to rebuild and make a fresh start.