LaDainian Tomlinson Holds Record With 31 Touchdowns in a Single Season
Published on May 13th, 2022 2:04 pm EST
Written By:
Dave Manuel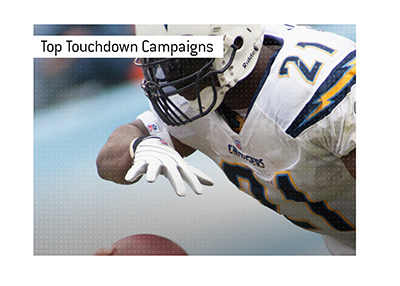 LaDianian Tomlinson's 2006 season may never be topped.
In the 2006 season (in which he won MVP), Tomlinson absolutely tore the NFL up.
Tomlinson would find the endzone 31 times in 16 games that season, which is a record that still stands today.
31 of these touchdowns were on the ground, while an additional 3 touchdowns were through the air.
In his 2006 campaign, Tomlinson rushed for 1,815 yards and added another 508 receiving yards.
The majority of Tomlinson's 31 touchdowns came during a six-game frenzy, where he found the endzone a total of 19 times.
-
Here are the top five touchdown campaigns of all time:
1. LaDianian Tomlinson, 2006, 31 Touchdowns
2. Shaun Alexander, 2005, 28 Touchdowns
3. Priest Holmes, 2003, 27 Touchdowns
4. Marshall Faulk, 2000, 26 Touchdowns
5. Emmitt Smith, 1995, 25 Touchdowns
It should be noted that in Marshall Faulk's 2000 campaign, the running back only played a total of 14 games.
-
While there is now one extra game played per season in the NFL compared to LT's days (17 vs 16), it's actually LESS likely that his record will ever be broken.
The reason?
RBBCs, or "running back by committees", have changed the game.
"Bellcow backs", or running backs that take the bulk of carries from their teams, are becoming more and more rare.
In this day and age, teams usually have 3-4 running backs that all have different roles - the primary back, the short yardage back, the pass catching back.
In short - LT's touchdown record is probably secure for a long time.