2001 Miami Hurricanes Sit At The Top of the List
Published on June 14th, 2022 11:30 pm EST
Written By:
Dave Manuel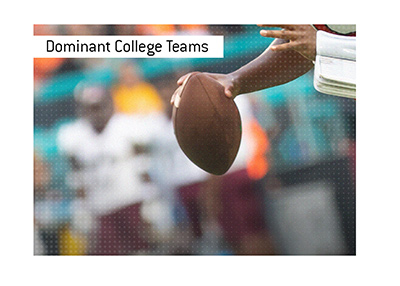 There have been some tremendously dominant college football teams over the past hundred years or so.
The 1971 Nebraska Cornhuskers were a force of nature, averaging 39 points per game on offense and giving up just 8.
The 1972 USC Trojans destroyed their competition, defeating the #3 ranked Ohio State in the Rose Bowl by a score of 42-17.
The 1995 Nebraska Cornhuskers were unstoppable on offense, as they averaged more than 35 points in every single game that they played.
-
The best and most dominant team in college football history, however?
That title belongs to the 2001 Miami Hurricanes.
Here are some stats for you regarding the 2001 Miami Hurricanes:
1) Produced a record 38 NFL draft picks
2) Went 12-0
3) Defeated Nebraska 37-14 in the Rose Bowl to win the national title
4) Allowed just under 10 points per game
5) Defeated five top 15 opponents by a combined score of 236-72
6) Had a roster that included the likes of Ed Reed, Vince Wilfork, Clinton Portis, Frank Gore and others
-
The 2001 Miami Hurriances were arguably the most well-rounded team in college football history, as they were good at literally every position. The fact that the team produced so many NFL draft picks should attest to that fact.
The 2001 Miami Dolphins finished their season with four straight games against ranked opponents (Syracuse, Washington, Virginia Tech, Nebraska) and won by scores of 59-0, 65-7, 26-24 and 37-14.