Betting Odds and Picks for MLB Playoffs Tonight
Published on September 30th, 2011
Click Here to Qualify for a £200 Bonus at Bet365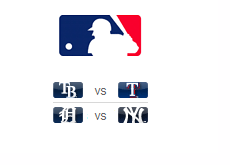 Baseball playoffs are about to start with some interesting pitching matchups for tonight.
Detroit Tigers at New York Yankees
Verlander is a pitcher every team would like to avoid in these play-offs, but for the Yankees that is impossible, as he comes to the mound tonight to face the Bronx team with 24-5 record and 2.40 ERA during the regular season. He did struggle somewhat against the Yankees in the regular season against whom he had two no-decisions and 4.50 ERA.
Yankees send their ace CC Sabathia to the mound who comes in with a 19-8 record and 3.00 ERA. Yankees are 8-1 in playoff starts with Sabathia and 5-1 in New York where he will look to control the Tigers who are come into this game with a four game winning streak and 7-3 record in their last four. Yankees have gone 5-5 after securing their spot in the playoffs earlier and avoiding all the drama that Red Sox and Devil Rays had to go through, although the Yankees were well involved in the games which decided the wild card spot in the AL.
Bookies are favoring Yankees in this match, but just slightly, with payout on the Yankees at 1.70, while on the Tigers we are offered 2.10.
Interesting odds, but looking at what Verlander has been able to do we would play it for Detroit to win the opener. Another interesting bet with these two pitchers on the mound is the points Over/Under which is set at 7. Playing under should do the trick and it pays 1.95.
King's picks:
Detroit wins – 2.10
Points under 7 – 1.95
Tampa Bay Rays at Texas Rangers
In a second game of the MLB playoffs being played tonight Tampa Bay travels to Texas where Matt Moore will go up against C.J. Wilson.
For those who have not followed baseball of late, Matt Moore is a Tampa Bay top prospect who has been tremendous since joining the Rays rotation on September, holding Yankees to a scoreless five innings in his first start to record his first major league victory.
C.J. Wilson comes on for the Rangers with 16-7 record and 2.94 ERA, clearly a favorite tonight to get the Texas bid at winning the world series going in the right direction.
Both teams are coming into the playoffs hot, with Tampa winning last five and Texas winning last six. Hard to tell what will give, but Texas has better hitting currently and a more experienced pitcher on the mound.
Bookies agree that the Rangers are favorite and are offering a 1.56 odd for a Rangers win and we think that this is the right way to go tonight. Points Over/Under is set at 8, so considering the pitching duo and the importance of this opening game, play points under.
King's picks:
Texas Rangers win – 1.56
Points under 8 – 2.00