Philadelphia Phillies Received Zero Compensation For Cisco
Published on November 10th, 2022 2:19 pm EST
Written By:
Dave Manuel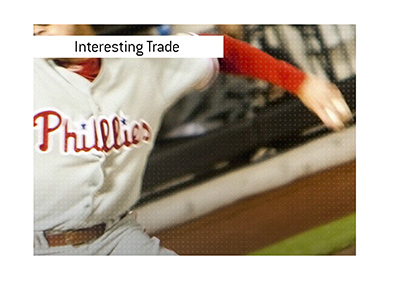 Over the history of Major League Baseball, players have been traded for some pretty crazy things.
One player was traded for a live turkey.
One player was traded for a fence.
One player was traded for a suit.
But trading a player and receiving ZERO compensation in return? That's a new one.
During spring training in 2013, this is exactly what happened.
An interesting trade would be reported by Major League Baseball:
"Mike Cisco Has Been Traded to the Los Angeles Angels for Zero Compensation"
Zero? Not a late draft pick or even a small sum of money in return?
That's right - Mike Cisco, who didn't put up bad numbers or anything, was being traded to the Angels for nothing.
-
Cisco, who was a 36th round draft pick in 2008, was bouncing around the Phillies' minor league organization.
His numbers were solid, and it appeared as though he might get a chance in the big leagues.
This is why it was so surprising when the Phillies dealt him away for nothing.
-
So why did the Phillies do this?
After all, Cisco seemed to be a decent talent, and it's not like he was hard to deal with.
The Phillies defended the trade by saying that they simply had too many pitchers, and that they wanted to trade Cisco to the Angels as a show of goodwill.
You can have Cisco for free, they seemed to say to the Angels, and maybe you can return the favor in the future.
The deal was consummated, and Cisco was sent to the Angels, who needed arms.
-
Mike Cisco would make it up to AAA a few times during his career, though he would never quite make it to the big leagues.
His last season was in 2013, when he went 4-4 with Arkansas, the Angels AA team.