"Mattress Mack" Continues To Fly Around Country, Placing Bets
Published on October 25th, 2019 7:53 pm EST
Written By:
Dave Manuel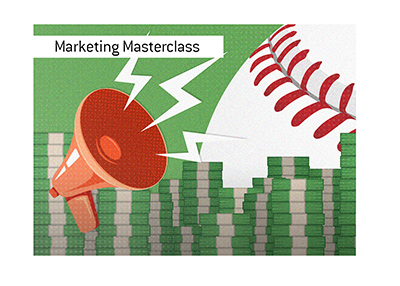 The Houston Astros are down 2-0 to the Washington Nationals in the World Series, though "Mattress Mack" continues to place large bets on the Astros to win.
Jim McIngvale - aka "Mattress Mack" - is very, very good at marketing his Houston-area mattress store.
"Mattress Mack" has done promotions in the past where he will promise refunds to anybody who has paid more than a certain amount for one of his mattresses, provided that a certain team wins.
McIngvale came up with a promotion for this year - if the Houston Astros won the World Series, "Mattress Mack" would give anybody who had paid a certain amount for a mattress (during the promotional period) a full refund on their purchase.
The mattress purchases piled up, leaving McIngvale on the hook for potentially $20 million in refunds.
In order to minimize his losses, "Mattress Mack" had to hedge his exposure, so he set out to place very large bets on the Astros to win the World Series.
The problem? It was easier said than done to get the type of money down. Many sportsbooks simply didn't want that level of liability on their books, so McIngvale had to publicly state his case and plead with sportsbooks to allow him to wager millions of dollars on the World Series.
Over the past few weeks, prior to the World Series starting and even after it started, "Mattress Mack" was able to wager nearly $11 million on the outcome of both the World Series and individual games within the Series.
If all of McIngvale's bets are winners, he will walk away with over $18 million in profit, which would almost completely hedge his losses.
-
According to the Action Network (link below), McIngvale played a significant portion of his wagers during the ALCS, which means that he was able to get as high as +220 odds on the Astros to win.
As the Astros have fallen behind in the series, McIngvale has gotten long odds again, as the Nationals are obviously the favourites to win the Series now.
On Friday, October 25th, "Mattress Mack" reportedly bet another $400,000 on the Astros to win the Series at +210, and an additional $650,000 on the Astros to win Game 3 straight up, which would net him a profit of $456,142.86.
-
All in all, this has been a masterclass in marketing, as "Mattress Mack" has constantly been in the news for the past couple of weeks.
Source: Yahoo.com -
'Mattress Mack' puts more money on the Astros