Alistair Overeem Currently 8/11 Favourite To Defeat Mark Hunt
Published on February 18th, 2017 3:45 pm EST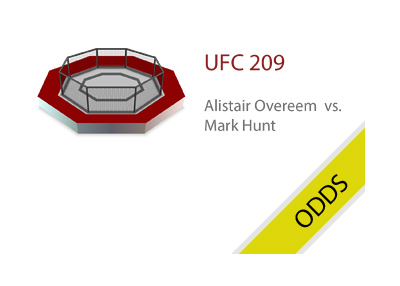 A loaded UFC 209 card will see Alistair Overeem take on the returning Mark Hunt in a Heavyweight tilt.
Alistair Overeem will be looking to rebound following his KO loss at the hands of Stipe Miocic, while Mark Hunt will look to put a tumultuous last couple of months behind him. Both men have one goal in mind, and that is to work towards another shot at the title.
-
Here are the current betting odds for this fight:
Alistair Overeem, 8/11
Mark Hunt, 11/10
Both men are known for their ferocious striking games - you can safely assume that very little of this fight will be spent on the ground.
-
It was uncertain as to whether or not Mark Hunt would ever return to the Octagon, as he was thoroughly disgusted the UFC and their policies towards fighters who test positive for performance enhancing drugs.
After Brock Lesnar tested positive following UFC 200, Hunt demanded that he receive Lesnar's full fight purse. In fact, Hunt has launched a lawsuit against the UFC, as he feels as though he was put in harm's way due to Lesnar's positive test.
Hunt has said that he needs to continue fighting in order to support his family, which is why he accepted a fight against Alistair Overeem at UFC 209. Hunt asked Overeem to agree to forfeit his purse if he tested positive for performance enhancing drugs, though the two sides never came to an agreement. Don't be surprised if we see a thoroughly grumpy Mark Hunt in the lead-up to UFC 209, as he still has a number of very big issues with the UFC.
-
At the end of the day, both men will likely be one win away from another title shot with a win at UFC 209, so there is plenty that is on the line. There are a number of interesting stories in this fight, including Hunt's ongoing unhappiness with the UFC and the fact that the two men have fought once before (Overeem won via submission in July of 2008).
This fight is nearly guaranteed to produce a knockout and some interesting post-fight comments - this fight is nearly worth the price of UFC 209 alone.