Can The Two Sides Come To a Deal Soon?
Published on March 1st, 2022 8:01 pm EST
Written By:
Dave Manuel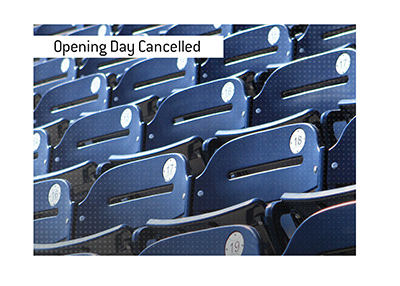 Major League Baseball just can't get out of its own way.
You'd think that they would have learned from their disastrous 1994 work stoppage, but that's obviously not the case.
Earlier today, MLB Commissioner Rob Manfred announced that the league was cancelling the first two series of the regular season after failing to negotiate a deal with the player's union.
The league had long stated that there would need to be a month to prepare for the regular season, and yesterday had been set as the hard deadline to agree to a deal that would save the full season.
After a "final proposal" from the league that the players turned down, the Commissioner announced that the first two series of the season would be cancelled.
-
The negotiations center around a number of different issues, including free agency, compensation for younger players and expanded playoffs.
The league locked out the players in what Manfred terms a "defensive lockout", while the players argue that they are simply looking to negotiate a deal that protects the players that will come after them.
Major League Baseball employs a number of confusing and arguably unfair mechanisms when it comes to younger players, and there has been growing resentment about this for years.
In addition, the two sides remain apart on issues such as a competitive balance tax, arbitration, the draft and expanded playoffs.
-
It seems almost unbelievable that the league would choose to move ahead with a work stoppage, given the tremendous damage done to their brand during the 1994 work stoppage, but here is where we are.
Baseball fans were looking forward to a welcome distraction, given the current state of the world, and now they won't even have that to look forward to.
MLB players, on the other hand, are cynical about the owner's action, as they argue that April is the worst month financially for the league anyways, and that the owners are simply looking to scare the players into a deal.
One thing is for sure - fans are incensed and the league would be smart not to let this drag on for too long.