Magic Johnson Still Regrets Taking the Money Instead of Nike Deal
Published on July 14th, 2023 3:06 pm EST
Written By:
Dave Manuel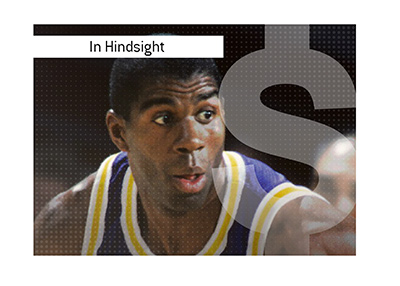 After the end of the 1979-80 season, Magic Johnson was one of the NBA's brightest young stars.
In his rookie campaign, Magic averaged 18 points per game, along with 7.7 rebounds and 7.3 assists.
While Larry Bird would win Rookie of the Year that season, Magic Johnson would get the last laugh, as the Lakers would win the NBA title, and Magic would be named the Finals MVP.
-
After the season, Magic was looking to cash in with a shoe deal.
Three companies - Converse, Nike and Adidas - asked for meetings with Magic and his management team.
Converse offered the most cash per year - $100,000 a year.
Nike, which was only a few years old at the time, offered something else - shares and a royalty of $1 for each pair of shoes that Nike sold.
Nike offered a total of 100,000 shares of their company's stock.
-
Magic was swayed by the cash and elected to take the deal from Converse, which is a move that he says continues to haunt him to this day.
Magic would have received $1 for EVERY pair of shoes that Nike sold, including all of the many millions of Jordans that the company sold.
In addition, Magic's 100,000 shares of Nike would be worth tens of millions of dollars.
-
It's easy to look back with the benefit of hindsight and say that Magic was an idiot not to take the Nike deal.
At the time, however, Nike was just a small, fledgling company, and there was no guarantee that they were going to succeed.
$100,000 in 1979 dollars is worth about $420,000, which is a great deal of money for a young basketball player to turn down.
Magic's rookie deal paid him $460,000 per year, so receiving an additional $100,000 a year from Converse was a big boost to his salary.
At the end of the day, Magic has done pretty well for himself, though he is still kicking himself for turning down Nike.