Buffalo and Miami Combined for a 30 Point Total in 2004
Published on November 29th, 2020 12:45 am EST
Written By:
Dave Manuel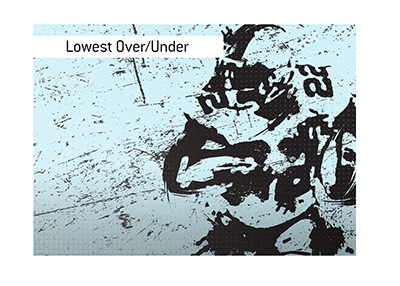 What was the lowest Las Vegas over/under total in modern NFL history?
Games with totals of less than 40 occur less frequently in this day and age, though they still sometimes occur.
Teams like the Baltimore Ravens, thanks to their superb defense, were involved in some very low Vegas totals during the height of their dominance, though none as low as the total that the Dolphins and Bills combined for in 2004.
In 2004, the Buffalo Bills and Miami Dolphins were both very, very bad.
The Bills had Drew Bledsoe as their QB, while the Dolphins had Jay Fiedler. These weren't exactly two guys that you would expect to be slinging it down the field with reckless abandon.
When these two teams squared off on Sunday, October 17th, 2004, Las Vegas wasn't expecting much in the way of fireworks.
In fact, the total was set at just
30
points, which is the lowest total in the modern NFL era.
Note: the Buffalo Bills would win the game by a score of 20-13, which meant that the game went slightly over the total.
-
There were surely games back in the '40s, '50s or '60s that had totals of less than 30 points.
The problem?
There is no history of what the totals were for these games, as nobody was creating an archive.
Instead, we can only look at the totals from the modern era of the NFL, and the lowest over/under belongs to the 2004 clash between the Bills and Dolphins.
The 2000 Baltimore Ravens, who had one of the best defenses of all time and only allowed 165 points over 16 games, had numerous totals that season that were in the low 30s, though none as low as the Bills/Dolphins in 2004.