Fort Wayne Pistons and Minneapolis Lakers Combined For 37 Points in 1950
Published on March 30th, 2022 4:33 pm EST
Written By:
Dave Manuel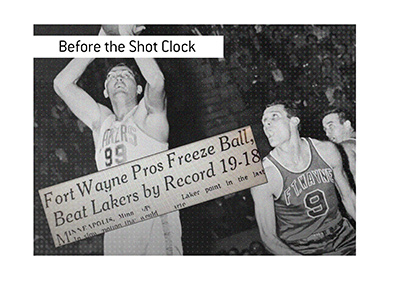 What was the lowest scoring NBA game of all time?
On November 22nd, 1950, the Fort Wayne Pistons took on the reigning and defending champions, the Minneapolis Lakers.
The Pistons were the first to acknowledge that the Lakers had the better team, but the Pistons had a plan.
If the Lakers rarely touched the ball, they wouldn't be able to score as much.
So Pistons coach Murray Mendenhall devised a plan - they'd maintain ball possession as much as humanly possible.
Remember, there was no shot clock at the time (that would be instituted in 1954), so Fort Wayne could just try and hold onto the ball for the entire game if they liked.
-
The plan worked for Fort Wayne, as they were able to beat the Lakers by a score of 19-18, for a combined total of 37 points.
Due to the addition of the 24-second shot clock in 1954, this is a record that will never be broken.
-
Here were the total number of points scored by quarter:
1st Q - 15 points
2nd Q - 9 points
3rd Q - 9 points
4th Q - 4 points
The Lakers managed to score just ONE point in the fourth quarter.
George Mikan of the Lakers scored 15 points in the game, while the rest of his team scored just three points.
In fact, the rest of the Lakers didn't even score one field goal over the course of the game.