Steelers Tied Up Lipps' on the Phone So They Could Draft Him
Published on April 20th, 2023 1:36 pm EST
Written By:
Dave Manuel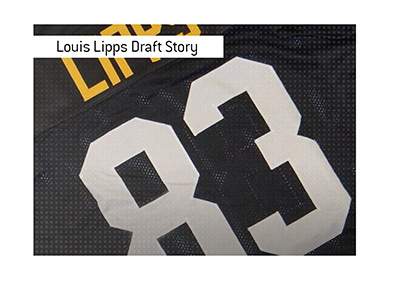 Times have changed.
For young football players leaving college, the NFL is the only game in town.
Back in 1984, however, the NFL wasn't nearly as big as it is today, and there was competition in the form of the USFL.
The USFL was big enough to lure away talent such as Jim Kelly, and NFL teams were always worried that the USFL would snatch away talent that they wanted to draft.
This was the case with the Pittsburgh Steelers and Louis Lipps.
The Steelers really wanted to draft the wide receiver in the first round, though there was legitimate concern that a team from the USFL might call up Lipps on draft day and give him an offer that he couldn't refuse.
-
1984 was long before the days of cell phones and call waiting.
The Pittsburgh Steelers had a plan when it came to Lipps - get him on the phone and keep him there.
If a team from the USFL came calling, they would receive a busy signal.
This is exactly what the Steelers did.
Roughly an hour before they were scheduled to make the 23rd pick in the 1984 NFL Draft, the Steelers got Lipps on the phone.
"Want to be a Steeler, Louis?"
"Yes."
"Ok - all you have to do is stay on the phone with us on the next hour."
Louis agreed, and you can only imagine the type of small talk that the Steelers and Louis engaged in over the next hour.
If anybody from the USFL was trying to get through to Louis, they were met with a busy signal.
When it came time to make their first-round pick, Louis was still available and the Steelers got their guy.
-
The Steelers were wise to keep Lipps on the phone, as Lipps would win OROY and be named an All-Pro twice in his career.
Lipps would finish his career with over 6,000 receiving yards and 43 touchdowns.