M.C. Reynolds, Daryle Lamonica, Bobby Hobert, Mike Buck and Chad Pennington All Posted 158.3 Passer Ratings and Lost
Published on July 19th, 2022 12:42 am EST
Written By:
Dave Manuel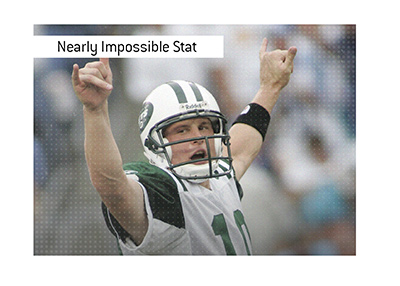 Posting a perfect passer rating is not easy - in fact, it's been done just 78 times in the HISTORY of the NFL.
Achieving the famed 158.3 passer rating in a single game is tough - in order to do so, you need to attempt at least 10 passes, have zero interceptions, have a minimum completion percentage of 77.5%, having a minimum of 11.875% of passes that result in touchdowns, AND have a minimum of 12.5 yards per attempt.
If you do all of these things in a game as a quarterback, there is a very good chance that your team will win the game.
In fact, if a QB has achieved a perfect passer rating, their team has won 73 out of 78 times.
-
Since the start of the NFL, there have been five occasions when a quarterback has had a perfect passer rating and LOST the game.
They were:
1.
M.C. Reynolds, December 6th, 1959
Reynolds would go 8-10 for 170 yards and 2 passing touchdowns as his team, the Chicago Cardinals, lost 45-21 to the Detriot Lions.
2.
Daryle Lamonica, September 17th, 1972
Lamonica and the Oakland Raiders would lose 34-28 to the Pittsburgh Steelers.
Lamonica would go 8-10 for 172 yards and 2 touchdowns.
3.
Bobby Hebert, September 12th, 1993
Hebert would go 14-18 for 243 yards and 3 touchdowns, though his team, the Atlanta Falcons, would lose to the New Orleans Saints 34-31.
4.
Mike Buck, October 17th, 1993
Mike Buck of the New Orleans Saints would go 10-11 for 164 yards and 2 touchdowns, though it would not be enough to beat the Pittsburgh Steelers, as the Saints lost 37-14.
5.
Chad Pennington, November 16th, 2003
Pennington would throw 3 touchdowns in a losing effort, as the Jets would be topped by the Indianapolis Colts, 38-31.
-
Achieving a perfect passer rating in the NFL is very hard.
Achieving a perfect passer rating while your team loses the game - nearly impossible.