Ryan Tannehill, Stoney Case, Patrick Mahomes Involved in Longest Sacks
Published on December 31st, 2021 11:25 am EST
Written By:
Dave Manuel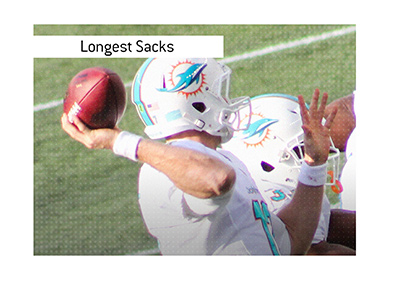 What was the longest sack in NFL history?
People have two ways of judging the longest sacks in NFL history - ones that involve fumbles, and ones that don't.
The longest official sack in NFL history came at the expense of Ryan Tannehill, when he was taken down for a 38-yard loss against Washington in 2015.
This one should have an asterisk beside it, however, as Ryan Tannehill fumbled and a comical chase for the ball ensued, with the Dolphins eventually recovering the ball well down the field.
-
People are more interested in the longest sacks that don't involve fumbles. Situations where the quarterback tries to elude the pressure by running backwards, only to eventually get caught.
There have been two 30-yard sacks, and one of them involved Patrick Mahomes.
In a game against the Miami Dolphins, Mahomes was trying to elude the pressure, only to be caught by the ankles inside of his own 5-yard line. This was a problem, as the play started at the 33 yard-line.
This was one of the few big mistakes that Mahomes made in what would be a breakout season for himself and the team.
-
The 30-yard Mahomes sack tied the record for longest ever sack in the history of the NFL (without a fumble being involved).
In 1997, Scott Galyon of the New York Giants sacked Stoney Case of the Arizona Cardinals for a loss of 30 yards.
-
There have been two 29-yard sacks in the history of the NFL as well, with Tim Tebow and Bob Griese being the unlucky recipients of the big losses.