Penn State and Illinois Combined For Nine Overtime Epic
Published on October 23rd, 2021 4:52 pm EST
Written By:
Dave Manuel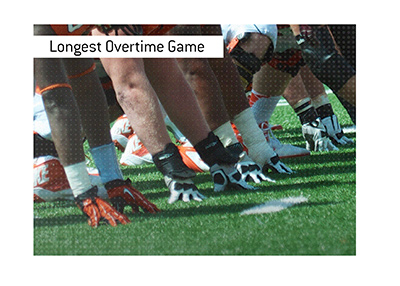 On October 23rd, 2021, Penn State and Illinois combined for the longest game in the history of college football.
In total, nine overtimes were played, with Illinois eventually eking out a 20-18 victory.
The game had been tied 10-10 heading into overtime.
Each team came very close to winning prior to the ninth overtime, with Illinois finally winning after Illinois QB Brandon Peters found WR Casey Washington for a 2 point conversion.
-
Prior to that, the record for longest ever game in FBS history was seven overtimes, with a number of games going that long.
This includes:
1. Texas A&M vs LSU, November 24th 2018.
The game was tied 31-31 heading into overtime, with Texas A&M eventually pulling out the 74-72 victory.
2. Western Michigan vs Buffalo, October 7th 2017.
Western Michigan would end up winning this game by a score of 71-68 in seven overtimes. Again, the game went into overtime tied at 31-31.
3. North Texas vs FIU, October 7th, 2006.
This game was tied 16-16 heading into overtime, and each team had a very hard time finding the endzone in the game.
This game was really a comedy of errors, with little offense and a number of missed field goals.
In the end, North Texas would win 25-22.
4. Arkansas vs Kentucky, November 1st 2003.
This game was particularly ridiculous, as the two teams scored 86 points in overtime.
After a nearly five hour battle, Arkansas ended up winning by a score of 71-63.
5. Arkansas vs Ole Miss, November 3rd 2001.
Another seven overtime game, this time involving a young Eli Manning, who was the starter for Ole Miss at the time.
Manning and Ole Miss would end up falling short, as Arkansas would end up winning by a score of 58-56.