Modern Era Record Belongs To Oilers/Cowboys Game on Thanksgiving of 1997
Published on October 31st, 2020 1:39 pm EST
Written By:
Dave Manuel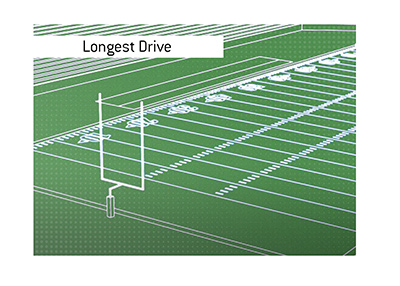 What has been the longest recorded drive in the history of the modern NFL?
People will often point to the 2000 NFC Championship game between the New York Giants and Minnesota Vikings as possessing the longest single drive, though that is not the correct answer.
On November 27th, 1997, the Dallas Cowboys travelled to Tennessee to take on the Tennessee Oilers. The Oilers would go on to win the game 27-14.
The Oilers were intent on running the ball down the throats of the Cowboys team, which wasn't very good at the time.
In the third quarter, the Oilers unleashed a massive 25 play, 13:21 drive that featured a total of 11 Eddie George rushes.
Add in three rushes from Oilers' QB Steve McNair, and you had a total of 14 rushes on the drive.
The drive started on the Oilers' 9 yard-line. They would march down the field, getting stopped on the 1 yard-line multiple times before finally kicking a 19-yard field goal.
The Oilers converted six third-down possessions on the drive, which allowed the clock to keep moving. Plus, with all of the rushes, the clock kept running.
This was the longest drive in the history of the modern NFL.
-
Some will point to a 1935 game between the Boston Redskins and Chicago Bears as having the longest ever drive.
This drive, which reportedly clocked in at 14:03, would hold the record.
Stats before the modern era of the NFL started are not as reliable, however, so most people consider the drive that took place during the Oilers/Cowboys game in 1997 as the official record.