Urban Meyer, Notre Dame's Wide Receivers Coach, Didn't Know About LeBron's Basketball Prowess
Published on June 17th, 2022 1:59 pm EST
Written By:
Dave Manuel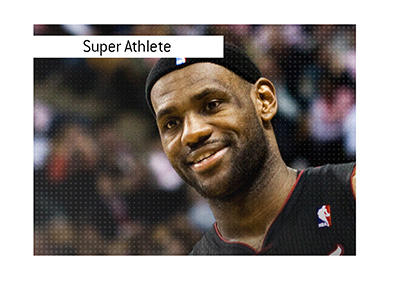 LeBron James is obviously a freakish athlete, so it's not surprising to learn that he excelled in multiple sports in high school.
James was obviously a generational high school basketball player (he'd skip college and go straight to the NBA), but he was also a fantastic wide receiver as well.
In his sophomore football season, LeBron caught 42 passes for 820 yards and 7 touchdowns, while in his junior season, he caught 61 passes for 1,245 yards and 16 touchdowns.
These numbers were strong enough to attract the attention of college football programs, including Notre Dame.
-
Urban Meyer was the wide receivers coach at Notre Dame at the time that LeBron was playing high school football.
Meyer travelled to offer LeBron a scholarship to play wide receiver at Notre Dame.
LeBron and his high school football coach were both present when the scholarship was offered. LeBron said "thank you very much, I'll consider it", while his coach just started to laugh.
Meyer, who had no idea about LeBron's basketball prowess, wondered what was so funny, and requested a one-on-one conversation with the coach.
LeBron's coach said - "Do you know who that is?"
Urban Meyer reportedly responded - "No."
"That's LeBron James."
"Who's LeBron James?"
"He'll be the next Michael Jordan."
"Come on."
-
LeBron was also reportedly scouted by other major college football programs.
We all know how the story ended - LeBron decided to focus on basketball and was eventually drafted first overall by the Cleveland Cavaliers, and the rest is history.
There is also a big "what if" question about LeBron and the NFL and how he would have done.
Urban Meyer tried to give him the opportunity to find out, though LeBron took his talents to the NBA instead.