Larry Fitzgerald Only Dropped 29 Passes - Over The Course of His Entire Career
Published on September 7th, 2022 3:42 pm EST
Written By:
Dave Manuel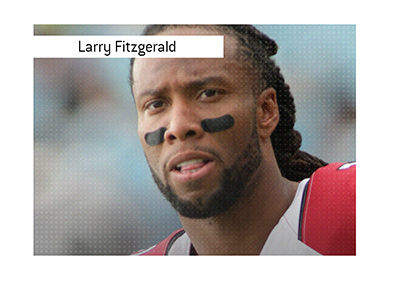 Earlier today, Larry Fitzgerald announced that he was going to be taking a broadcasting position, signalling the end of his playing career.
Larry Fitzgerald is a legend and sure-fire Hall of Famer that finished his career second in both receptions (1,432 catches) and receiving yards (17,492).
The craziest Larry Fitzgerald statistic, however, is the total number of passes that he dropped over the course of his storied career.
-
Over his 17 years in the league, Larry Fitzgerald dropped a total of
29 passes
.
In fact, Fitzgerald had more TACKLES (41) than drops over the course of his career, despite the fact that he played wide receiver.
That means that Larry Fitzgerald dropped an average of
1.7
passes per season over the course of his entire career.
If you want to understand how amazing this stat is, break out the total number of drops that the top current wide receivers in the NFL post per season.
Here are some numbers from the 2021 NFL season:
Ja'Maar Chase - 11 drops
Deebo Samuel - 10 drops
DJ Moore - 10 drops
Darnell Mooney - 9 drops
Cooper Kupp - 8 drops
CeeDee Lamb - 8 drops
These are great, great wide receivers, and they will all likely post more drops over the next 3-4 seasons than Larry Fitzgerald did over his entire career.
-
Larry Fitzgerald was targeted 2,335 times over the course of his storied career, and made a total of 1,432 catches.
Of those 2,335 targets, Fitzgerald only dropped
29
passes.
To put this into perspective - DeAndre Hopkins is considered to have the best hands in the game, and he usually averages 3-4 dropped passes per year.
That is far behind Fitzgerald's rate of 1.7 drops per season, and just illustrates how good Larry Fitzgerald's hands were.
Legend.