Savannah State vs Florida State in 2012 Set Record For Largest College Football Spread
Published on November 10th, 2019 6:26 pm EST
Written By:
Dave Manuel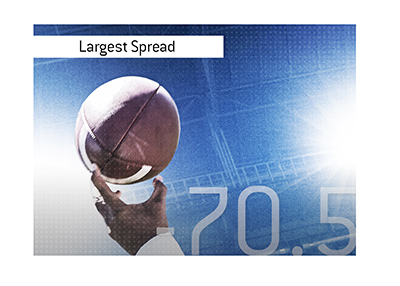 In 2012, Savannah State, new to the FBS, travelled to Florida State to take on the Seminoles.
Savannah State was wildly overmatched in the contest and was coming off of a 84-0 drubbing at the hands of Oklahoma State.
The result? The bookmakers set the line for the contest at Florida State -70.5, which remains the largest spread in a college football game to date.
Prior to that game taking place, the previous record had belong to a contest between Hawaii and Northern Colorado, where Hawaii had been 60 point favourites.
-
The game between Florida State and Savannah State had a very interesting conclusion that would have caused many bettors to toss their televisions out the window.
Florida State, as expected, was completely thrashing Savannah State. With 8:56 left in the third quarter, the score was 55-0 for Florida State and they appeared to be on their way to covering the massive 70 1/2 point spread. Savannah State had just 28 yards in total offence up to that point.
At this point, Mother Nature stepped in and declared its own Mercy Rule, as the game was declared final due to severe lightning in the area.
To make the story even stranger, the two coaches agreed to have a running clock midway through the second quarter following an initial 45 minute delay due to lightning. At that point, Florida State was already up 48-0.
In short, Florida State likely could have put up 100 points if the game had been played under normal conditions.
-
In case you were wondering, Hawaii also failed to cover the spread against Colorado, as they ended up winning 63-6. As is the case in most blowouts, Hawaii was up big at the half and then took out their best players, which resulted in the team failing to cover the spread. This is the danger in betting on teams to cover massive spreads, as they will usually take their best players out at the half.