Oakland Raiders Current Favourites To Draft Oklahoma Star
Published on January 18th, 2019 6:37 pm EST
Written By:
Dave Manuel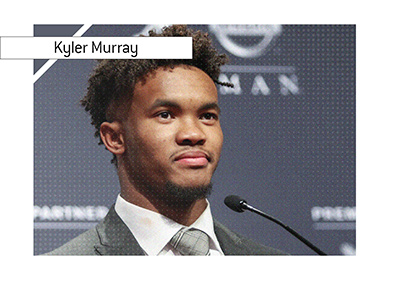 Things could still change at this point, though it certainly looks as though Kyler Murray plans on pursuing a career as a NFL quarterback.
Murray, the Oklahoma stand-out who won the Heisman Trophy, had a professional baseball contract waiting for him after he left Oklahoma. The Oakland Athletics paid Murray a handsome signing bonus and planned on adding him to their organization.
Things changed, however, and Murray ended up wowing this past season as the quarterback of the Oklahoma Sooners. Murray led the Sooners to the college football playoffs, where they narrowly lost to the Alabama Crimson Tide.
Murray has a very hard decision to make - become a NFL quarterback, where there is more money to be made (especially short-term) but much more potential for injury, or enter the Oakland Athletics organization, where the prospect of a big payday is much less certain.
It appears as though Murray will be entering the NFL, and it certainly looks as though he will be a first round pick.
The question - who will select Murray?
There are a number of teams that desperately need help at QB, including the Jacksonville Jaguars and New York Giants. In addition, there is some consideration that the Arizona Cardinals might end up selecting Murray with the #1 overall pick, though that is very unlikely.
The Oakland Raiders have a number of first round picks and need help at QB, so there is a very good possibility that they select Murray in the first round.
The Jacksonville Jaguars are done with the Blake Bortles era, and they will almost certainly select a QB with their first round pick.
The New York Giants are getting ready to deal with the retirement of Eli Manning, which should take place over the next year or two. Pairing Murray with Saquon Barkley and OBJ could be dynamic, to say the least.
-
With that being said, let's take a look at the current betting odds as to which team will select Kyler Murray at this year's draft, courtesy of a major offshore sports book:
Oakland Raiders, +325
Jacksonville Jaguars, +350
New York Giants, +400
Arizona Cardinals, +500
Denver Broncos, +800
Miami Dolphins, +800
Washington Redskins, +800
Cincinnati Bengals, +900
Tampa Bay Buccaneers, +1200
Pittsburgh Steelers, +1400
-
The Oakland Raiders own the 4th, 24th and 27th picks in this year's draft, thanks to trades with the Bears and Cowboys. If the Raiders don't take Murray at #4, chances are they won't get him, unless they elect to make a trade.
Murray's likeliest landing spots seem to me to be #6 (New York Giants), #7 (Jacksonville Jaguars) or #13 (Miami Dolphins).