Sebastian Janikowski Last Kicker To Be Taken In First Round
Published on April 3rd, 2022 1:02 pm EST
Written By:
Dave Manuel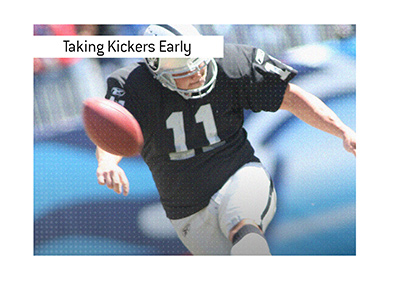 Five kickers have been taken in the first round of the NFL draft.
It seems almost absurd to think about in this day and age, with teams scrambling to draft offensive tackles, quarterbacks and wide receivers early.
Who would possibly think it's a good idea to take a kicker in the first round?
Kickers, however, have been taken in the first round on five separate occasions in the past, with the most recent being Sebastian Janikowski in the first round of the 2000 NFL draft.
As a matter of fact, the Raiders have shown that they have no problem taking kickers early.
Is it ever worth it?
Anyways, here are the five kickers who were taken in the first round of the NFL draft:
1. Sebastian Janikowski, 1st round (17th overall) in 2000 NFL Draft.
The Raiders' all-time leading scorer and a Pro Bowler in 2011.
2. Russell Erxleben, 1st round (11th overall) in 1979 NFL Draft.
Only lasted six years in the league and ended up serving a long jail sentence.
3. Steve Little, 1st round (15th overall) in 1978 NFL Draft.
A tragic story, as Little was involved in a car accident in 1980 that broke his neck, and it occurred just hours after he was cut by the St. Louis Cardinals.
4. Ray Guy, 1st round (23rd overall) in 1973 NFL Draft.
Hall of Fame punter who was a 3x Super Bowl champion and 6x First-Team All-Pro. Was definitely worth the first round selection, even if he was a punter.
5. Charlie Gogolak, 1st round (6th overall) in 1966 NFL Draft.
The only kicker to ever get in the top 10 of the NFL draft.
Only lasted in the league for six seasons, so it's safe to say that he wasn't worth the draft capital that was spent on him.