Will There Ever Be Another Running Back Taken First Overall?
Published on January 2nd, 2023 2:04 pm EST
Written By:
Dave Manuel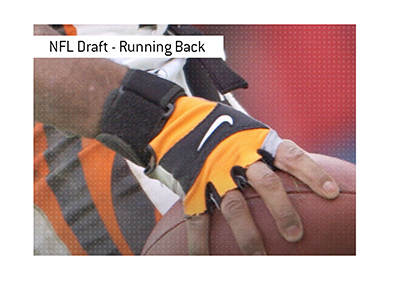 At the 1995 NFL Draft, the Cincinnati Bengals surprised many when they took running back Ki-Jana Carter (Penn State) first overall.
This was the LAST time that a running back was taken first overall in the NFL Draft, and it may very well be the last time EVER that a RB is taken with the first overall pick.
-
The Cincinnati Bengals really, really wanted Ki-Jana Carter, and they traded up in the draft to make sure that they got their man.
The Bengals would trade their #5 overall and #36 picks to the Carolina Panthers in exchange for the first overall pick.
Ki-Jana Carter was certainly a mouth-watering prospect, as he rushed for 1,539 yards and 23 touchdowns in his junior year at Penn State.
The Carter hype train was in full effect after the 1995 Rose Bowl, when Ki-Jana Carter rushed for 156 yards and 3 touchdowns against Oregon.
Carter would soon declare for the NFL Draft, and the Bengals knew that they had to have him.
-
The Bengals would select Carter first overall, and this would be the LAST time that a running back would be taken first overall.
The Ki-Jana Carter era in Cincinnati was a disaster, to put it lightly.
Injuries derailed Carter's career, as he tore a ligament in his knee in a preseason game in his rookie season. Carter would miss the entire year.
Carter would suffer a number of other devastating injuries over the course of his career, including a torn rotator cuff, a broken wrist and a dislocated kneecap.
In total, Carter would rush for just 1,114 yards over the course of his shortened career while playing for teams such as the Bengals, Washington Redskins, Green Bay Packers and New Orleans Saints.
-
The Bengals spent an incredible amount of draft capital on Carter in 1995, and the result was about as bad as you could get.
The NFL has changed over the past few decades, with positions like quarterback, offensive tackle and defensive end becoming ever more important.
Many teams are now employing RBBCs (Running Back by Committee), which makes the running back position even less important.
It's hard to imagine a team having the #1 overall pick in this day and age and drafting a running back. Teams always need help at the QB, OT or DE positions, and running back just isn't as important as it used to be.
There is a good chance that Ki-Jana Carter will be the last running back to EVER be taken first overall.