Can Tony Ferguson Solve the Khabib Nurmagomedov Riddle?
Published on February 25th, 2017 2:41 pm EST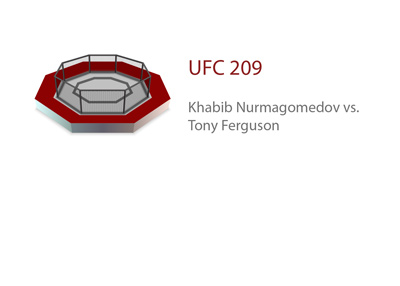 One of the most intriguing UFC fights in quite a long time will see Khabib Nurmagomedov square off against Tony Ferguson in an interim Lightweight title fight. This fight will serve as the co-main event for UFC 209: Woodley vs Thompson 2.
The winner of Nurmagomedov/Ferguson will qualify for the next shot at current Lightweight champion Conor McGregor. This assumes, of course, that McGregor will look to defend his title - there is always the possibility that McGregor's next fight will be in the boxing ring against Floyd Mayweather, or he may elect to move up to Welterweight to challenge for that title.
In Nurmagomedov/Ferguson, you get undoubtedly the two best Lightweights in the world not named Conor McGregor. Khabib Nurmagomedov is a ferocious wrestler, as evidenced by his complete dismantling of Michael Johnson. Tony Ferguson is likely the most well-rounded of the two, as he can beat you in a number of ways.
Both men are enjoying long winning streaks, with Nurmagomedov still sporting an undefeated record.
-
Nurmagomedov, likely due to the strength of his wrestling, is the clear favourite to win on Saturday night - here are the current betting odds:
Khabib Nurmagomedov, -210
Tony Ferguson, +175
According to these odds, a successful $210 wager on Nurmagomedov would yield a total profit of $100, while a successful $100 bet on Ferguson would return a total profit of $175.
-
Most people expect this fight to go the same way - Khabib will eventually take Ferguson to the ground and end the fight.
Khabib's biggest weakness, however, is clearly his striking. If Ferguson can blitz Khabib early, the fight could get very interesting. In addition, Ferguson is a very well-rounded fighter, and it will be interesting to see how well he fights off of his back. There is no question that Ferguson poses the toughest test of Khabib's career, and it will be interesting to see which fighter ends up on top.
One thing is for sure - this will be a tremendous fight.