Recency Bias, Emotion Has Some People Forgetting The Greats That Came Before
Published on October 25th, 2020 9:40 am EST
Written By:
Dave Manuel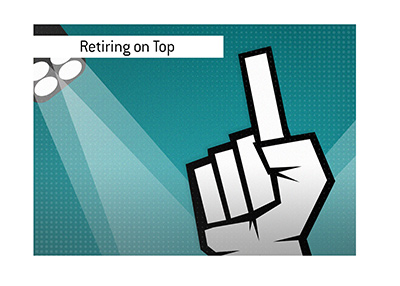 In the aftermath of Khabib Nurmagomedov's decisive victory over Justin Gaethje at UFC 254 yesterday afternoon and subsequent shocking retirement announcement, many people are declaring that Khabib is the GOAT (Greatest of All Time).
There is no doubt that Khabib is arguably the best pound-for-pound fighter in the UFC right now, as he has truly mauled his opponents since arriving in the UFC. You can certainly make the argument that Khabib is the most dominant champion in the promotion right now.
The "Khabib is the GOAT" proclamation, however, is likely a result of recency bias and high emotion, as Khabib tearfully announced his retirement from the UFC after his fight.
I have no doubt that Khabib will never fight in the UFC again, as he seems to have very strong principles. He promised not to return to fighting, and I expect him to keep that promise.
That means that we now have Khabib's full career to analyze and compare against some of the other greats that have graced the Octagon.
The three other men in the GOAT discussion are usually Jon "Bones" Jones, Georges St. Pierre and Anderson "The Spider" Silva.
It can be easy to forget just how dominant these fighters were in their primes. When compared against Khabib, these fighters all deserve to stand above Khabib in the GOAT discussion, in my opinion.
The biggest "strike" against Khabib in the GOAT discussion, in my opinion, is his lack of title defences.
Khabib defended his Lightweight title three times, defeating Conor McGregor, Dustin Poirier and Justin Gaethje.
Including interim title fights, Jon "Bones" Jones has won fourteen UFC title fights, which compares to four for Khabib (including Khabib's title win over Al Iaquinta). Jones' reign of terror in the Light Heavyweight division included wins over UFC legends, including Mauricio Rua, Lyoto Machida and Daniel Cormier.
Georges St. Pierre won 13 UFC title fights, while Anderson "The Spider" Silva won 11 UFC title fights.
It is hard to say that Khabib is the GOAT when fighters such as Jon Jones and Georges St. Pierre have won multiple times more title fights. The pressure of being a UFC champion is intense, and putting down every new challenger when the eyes of the world are on you for many years in a row is an incredible accomplishment.
Some people want to exclude GSP and Anderson Silva from the GOAT discussion, as both men have losses on their records.
In the case of GSP, however, he avenged both of those losses. While Anderson Silva probably stuck around too long, there is no denying that he was easily the best fighter in the UFC for many years during his prime.
If you want to compare records, Jon Jones has a perfect record as well (excluding his DQ loss to Matt Hamill, which he was absolutely dominating). Jon Jones has a 26-1-1 record, though has never actually lost. Plus, Jones has faced subjectively tougher competition over the course of his career, including Daniel Cormier (2x), Rashad Evans (in his prime) and Alexander Gustafsson (2x).
While Khabib has a perfect MMA record, Jon Jones has won 19 times in the UFC (21 if you include his NC against Cormier and DQ loss against Matt Hamill).
If you want to talk about Khabib's overall round dominance in the UFC (you can argue that he lost just 1-2 rounds in the UFC throughout his career), Jones, GSP and Silva all had similar stretches of dominance.
-
Khabib Nurmagomedov is extremely likeable and never gets into trouble, which makes it easier to pick him for GOAT status over somebody like Jon Jones, who has constantly had issues over the course of his career. The same thing happens with Floyd Mayweather in boxing - people don't like to call him one of the greatest of all time because they don't like him. Mayweather is, undoubtedly, one of the greatest boxers of all time, like him or not.
Khabib has had a tremendous career and is easily one of the best fighters that the UFC has ever seen.
Is Khabib the GOAT? Jon Jones, George St. Pierre and Anderson "The Spider" Silva would likely have something to say about that.