Juan Soto Raises Eyebrows After Turning Down $440 Million Contract
Published on July 18th, 2022 4:26 pm EST
Written By:
Dave Manuel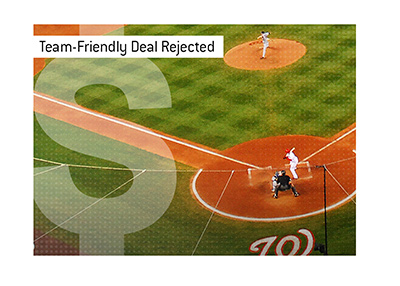 Earlier this week, Washington Nationals outfielder Juan Soto raised eyebrows across the world when he reportedly turned down a $440 million/15 year contract offer.
As a result, the Nationals are reportedly going to trade their young star.
The reaction to this news was nearly the same - how could somebody turn down so much money?
-
Life is never certain, and obviously turning down this amount of money has a certain level of risk.
With that being said, if earning as much money as possible is your goal as a professional athlete, turning down this contract was absolutely the right move.
-
The Washington Nationals contract offer to Soto would have had an average annual value of $29.33 million per year.
Soto, who is just 23 years of age, would have been locked up with the Nationals until the end of his career.
The $29.33 million per year that Soto would have been earning as of 2023 would have made him the 16th highest paid player in the league, behind the likes of Alex Bregman, Jacob DeGrom, Manny Machado and others.
This seems reasonable until you realize that Soto would have been locked in at this salary over the next 15 years of his career.
Again - this is a massive amount of money, but what will the top players be earning in 5 years? 10 years?
Why would Soto, who is a 2x All-Star, 2x Silver Slugger and NL batting champion (2020), lock himself up for 15 years at $29.33 million per year?
Why would Soto, who was the runner-up in the NL MVP race in 2021, accept a contract that doesn't even make him a top-15 paid player in the league, despite the fact that he is obviously so good and still so young?
With 10% inflation in the United States right now, why would Soto accept a team-friendly deal that locks him in for the rest of his career?
-
Major League Baseball's three major TV deals - ESPN, Fox and Turner Sports - all expire at the end of the 2028 season.
Presumably these three deals will be renewed for much more money, which will continue to inflate the value of player contracts.
At the end of the 2028 season, Juan Soto will still be just 29 years of age - in his prime, with 9-10 years of MLB service still in front of him.
By the end of the 2028 season, will it be unheard of for a star player to get a deal that pays them $40-$45 million per season? Absolutely not, as there are already 9 players that earn $35 million or more per year.
So why would Juan Soto lock himself in at $29.33 million per year at such a young age?
Why would he lock himself in to a 15-year deal when he has no clue as to the future direction of the Washington Nationals?
-
If Juan Soto and his agent want to maximize his careers earnings, they will sign a deal that takes Soto into his late 20s/early 30s, where they will be able to sign one more monster deal that takes him into retirement at a much higher AAV.
Soto could potentially end up making hundreds of millions of dollars more if he takes this route, compared to taking the $440 million/15 year deal from the Nationals.