Shaw To Be Suspended Through 2020 Season at Minimum
Published on November 29th, 2019 4:13 pm EST
Written By:
Dave Manuel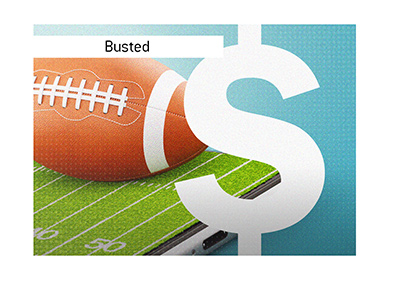 Earlier today, NFL Commissioner Roger Goodell announced via a statement that Josh Shaw of the Arizona Cardinals has been suspended through at least the end of the 2020 season for betting on NFL games.
According to the league, Shaw, who is currently on Injured Reserve, bet on NFL games on multiple occasions this season.
Roger Goodell also went on to say that there was no evidence that any inside information was used, and there was also no evidence that any games were compromised. In short, there was no evidence that Shaw attempted to throw any of the Cardinals games in order to profit from a wager.
None of Shaw's teammates, coaches and members of the training staff were found to be involved as well, or even knowledgable about Shaw's betting habits.
Shaw is eligible for reinstatement as of February 15th, 2021, and has three days to appeal the decision.
-
This suspension comes at an interesting time for the NFL, which is just now starting to dip its toes into the world of sports betting.
Thanks to a Supreme Court ruling last year which allows states to legalize sports betting, the major professional sports leagues in North America are now realizing a major new revenue stream as they are quickly signing deals with various betting providers.
The NFL, which is the most valuable sports league in the world, is cautiously approaching legalized sports betting, and this suspension reveals one of the league's biggest worries about legalized sports betting in the United States - the integrity of their games.
Remember, the NFL was steadfastly opposed to legalized sports betting for decades, and they often cited game integrity as one of the reasons as to why they were opposed.
This suspension isn't expected to slow the league's move towards embracing legalized sports betting and all of its associated revenues, however.
-
Josh Shaw is 27 years old and was a fourth round pick of the Cincinnati Bengals in the 2015 Entry Draft.
Since being drafted, Shaw has played for four different teams - the Cincinnati Bengals, Kansas City Chiefs, Tampa Bay Buccaneers and the Arizona Cardinals.
Shaw played at USC before entering the NFL. After signing a one-year deal with the Arizona Cardinals, Shaw was placed on IR with a shoulder injury prior to the season getting underway.
If the allegations are true, Shaw apparently decided to keep himself occupied by betting on NFL games.
There is no word as to how the NFL became aware of Shaw's betting habits.