Jonas Gray Will Live On in Fantasy Football History
Published on August 26th, 2021 10:27 pm EST
Written By:
Dave Manuel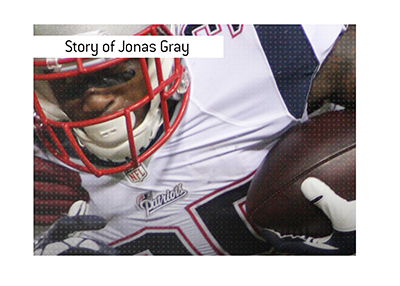 On November 16th, 2014, Jonas Gray turned in one of the most impressive performances ever by a running back in a single game.
Gray, who was strictly a bench player prior to the game, went off for 201 yards and 4 touchdowns as the Patriots stomped the Indianapolis Colts by a score of 42-20.
In the game, Bill Belichick went to Gray early, and Gray kept delivering.
Belichick likes to use a revolving door of running backs over the course of a game, but Gray kept delivering, so Belichick kept riding the hot hand.
In the end, Jonas Gray became an overnight sensation and a hero to anybody who was smart enough to start him in fantasy football that week.
-
Gray, however, would essentially never be heard from again after that game.
How ridiculous is this - after scoring 4 TDs and rushing for 201 yards in one game, Gray's career stat line would end up looking like this:
16 Games Played
134 Rushing Attempts
588 Rushing Yards
5 Touchdowns
After turning into a career day against the Colts, Jonas Gray's career went sideways after he slept in and missed practice.
This occurred the VERY next week after the Colts game. Instead of potentially turning into a superstar, Gray slept through a practice and was ultimately benched by Bill Belichick.
Just like that, Jonas Gray was back on the bench.
A massive opportunity was squandered.
Gray would not dress in four of the Patriots' nine remaining games that season, and in the games that he did play, he only rushed for less than 100 total yards.
Gray did not play in the Super Bowl that year, and he was released a few months later.
After being released by the Patriots, Gray would subsequently sign with both the Miami Dolphins and Jacksonville Jaguars, only to be released by both teams.
-
Jonas Gray is a ridiculous footnote in football history, and he is likely best known by fantasy football players.