The GOAT Kept Producing Right Up Until The End of His Career
Published on June 30th, 2023 6:51 pm EST
Written By:
Dave Manuel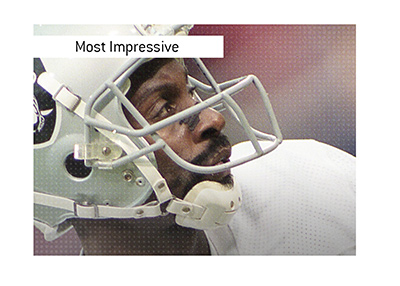 If you play fantasy football at all, you know that wide receivers are usually considered to be "over the hill" at the age of 30.
If you've got a 30 year-old wide receiver on your dynasty roster, you are probably looking to trade them.
This is what makes Jerry Rice's 2002 campaign so incredible:
He had 1,211 receiving yards - at the age of 40!
This wasn't an outlier either - in fact, Rice had 1,139 receiving yards the year before, and 869 receiving yards the year after.
At the age of 40, Rice was targeted 150 times in 16 games.
He would catch 92 of those targets for a total of 1,211 yards and 7 touchdowns.
-
Rich Gannon and Jerry Rice were in a zone in 2002, as they helped lead the Raiders to a 11-5-0 record.
This was Rice's 18th season on the league, and he was almost as effective as ever.
Rice would often have great young cornerbacks covering him, and he still managed to find a way to get open, even at the age of 40.
Rice's 18th season in the league certainly wasn't his best - he managed 1,848 receiving yards in 1995, and 22 receiving touchdowns in 1987.
2002 was, however, Rice's most impressive season, as he was unbelievably effective, even at the age of 40.
-
You really have to wonder how long Jerry Rice could have continued to play at a high level, had he chosen to do so.
Will we ever see another 1,000+ yard wide receiver that is 40 years of age?
Probably not.