Whitworth's Alabama Teams Won Just 4 Games Over Three Years
Published on September 17th, 2023 12:31 pm EST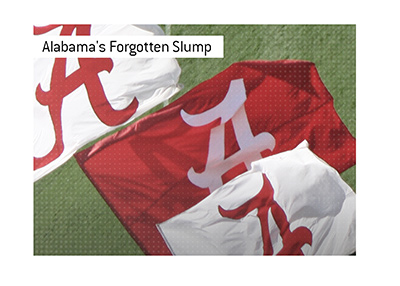 In this day and age, the idea of Alabama football losing more than 1-2 games per season seems almost unthinkable.
The program, led by Nick Saban, consistently lands top recruits and is consistently one of the top teams in the nation.
It's hard to imagine that 70 years ago, just a few years before the start of the Bear Bryant era that brought the team so much success, Alabama football could barely buy a win.
-
Forget about the horrendous Mike Shula era at Alabama - the worst period in Alabama football belongs to the mid 1950s when Jennings B. Whitworth was the head coach.
During his three year run with the team, Coach Whitworth posted a winning percentage of just 16.7%.
Over the course of three years, Alabama football won just four games with Coach Whitworth in charge.
-
Coach Whitworth, who was nicknamed "Ears", had previously coached baseball as well.
After serving as the head football coach at Oklahoma Agricultural and Mechanical College, Whitworth was hired to as the head coach of Alabama.
Despite posting a record of just 22-27-1 at Oklahoma A&M, Whitworth was hired to lead Alabama, as he had previously played tackle for the team when he was a student.
-
In most cases, new head coaches are allowed to hire their own assistants.
Whitworth, however, was forced to retain many of the coaches from the previous era.
The results were very underwhelming, as Alabama went 4-24-2 during his run as head coach.
This included a winless season in 1955, and back-to-back 2-7-1 seasons in 1956 and 1957.
The team was terrible and lacked cohesion - at the end of the 1957 season, Coach Whitworth was fired.
-
After working as a line coach with Georgia in 1959, Whitworth left coaching forever, never to return.
-
The bad news is that the Coach Whitworth era was absolutely terrible for Alabama football.
The good news is that the Coach Whitworth era produced the Bear Bryant era, which brought with it hundreds of wins and a tremendous amount of success.