SportsBooks in Indiana Won a Net of $8.5 Million in September
Published on October 14th, 2019 2:12 pm EST
Written By:
Dave Manuel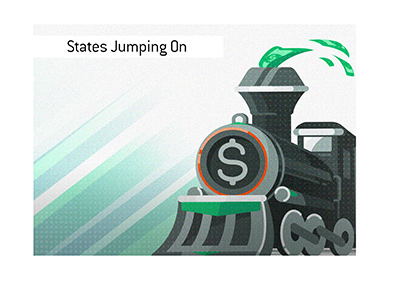 Indiana is one of the growing number of states in the United States that has decided to legalize sports betting and jump on the money train.
Most states in the union will eventually legalize sports betting, in our opinion, as the potential revenue stream is just too great. In this day and age, when states are scrambling to balance their books and find new streams of revenue, sports betting was seemingly sent directly from heaven, as most Americans are already so deeply involved in wagering on sports.
The state of Indiana started offering sports betting in the month of September, and the first numbers are in.
According to David Payne Purdum's Twitter feed (link below), the state's sportsbooks handled $34.5 million in wagers in the month of September.
These $34.5 million in bets turned into a net profit of $8.5 million for the sportsbooks, with the largest handle coming at the Horseshoe Hammond.
-
Football, surprise surprise, was the dominant game in terms of attracting wagers, as a full $20.7 million was wagered on the NFL and college football in the month of September.
$3.44 million was bet on baseball, $120,101 was bet on basketball (this number will skyrocket once the NBA starts and March Madness approaches), $449,108 was bet on "other" (including hockey, soccer and other sports), and an additional $9.773 million was wagered on parlays, which can include different sports (a parlay is when you bet on multiple games, increasing your potential payout if you win).
In total, $34,517,345 was wagered in Indiana's sportsbooks in the month of September.
-
Legalized sports betting is growing like a wildfire in the United States, and this phenomenon is having a fundamental impact on all four of the major North American sports leagues, as they are all scrambling to get a drink from this new fountain of cash.
Source:
David Payne Purdum Twitter Feed