Agents Make Up to 3% For Contracts and More For Endorsement Deals
Published on April 17th, 2023 7:03 pm EST
Written By:
Dave Manuel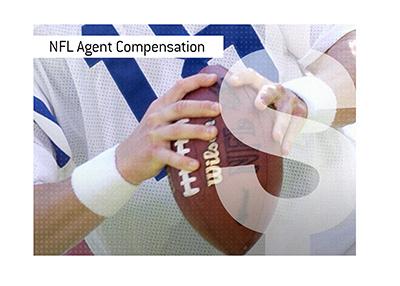 Over the past few years, we've seen a growing trend of NFL players representing themselves in contract negotiations.
The diplomatic response that they give when asked why they represent themselves is that they want a deeper understand of how contracts and contract negotiations work, but the truth is that many players wonder exactly what their agents are getting paid for.
After all, if you are a top player in the NFL, your contract practically writes itself, in terms of how much money you are worth on the open market, and how much guaranteed money you might be entitled to.
-
The question: how much money do NFL agents make?
There are two ways that agents make money - player contracts and endorsement deals.
NFL agents are limited in how much they can make from player contracts.
The "default" compensation for an agent when it comes to a player's contract is 1.5%, though agents can make as much as 3% of the total value of the compensation.
So, if an agent negotiates a $250 million, 5 year contract for a player, they will receive 3% of the player's total compensation each contract year.
If a player is cut, the agent will only receive compensation when the player receives compensation.
So, if a player receives $75 million in compensation in their first year, $50 million in compensation in their second year and then are subsequently cut, the agent will receive up to 3% of $75 million and up to 3% of $50 million.
-
Agents can earn much higher commission percentages from the negotiation of endorsement deals, and there are no NFLPA restrictions on how high these percentages can be.
For instance, agents will typically command 15-20% of total commissions from endorsement deals.
The reason?
This money is seen as "extra" money to players, and agents will need to get out into the world to negotiate endorsement deals.
If the agent for a high-profile quarterback, for instance, finds and negotiates a 5-year, $10 million endorsement deal with a cell phone company, the agent will usually receive 15-20% of this money.
The player doesn't usually mind this high commission, as this money is in addition to their contract money, and usually requires only a very small part of their time.
-
It's a very tough business luring in new clients if you are an agent, as "super" agents have the market cornered on high-profile players.