Baltimore Ravens Big Home Favourites on Monday Night Football
Published on November 26th, 2017 9:42 pm EST
Written By:
Dave Manuel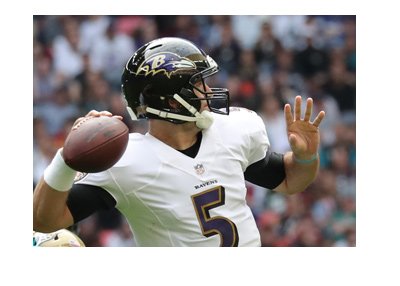 This week's edition of Monday Night Football will see the Baltimore Ravens play host to the Houston Texans.
A month or so ago, this would have been a very intriguing match-up between one of the league's most dynamic offensives and one of the league's best defences. That was, of course, until Deshaun Watson blew out his knee, reducing a super-charged Houston offence into a team that struggles to score.
The Baltimore Ravens, for their part, have been crushing offences so far this season, and there is no reason to think that Tom Savage and company will be able to do anything against the Ravens. This should lead to a very long night for the Texans and their fans.
Here are the betting odds for Monday night's game:
Baltimore Ravens, 1.27
Houston Texans, 3.8
The over/under is set at a very low 38 points:
Over 38 points, 1.91
Under 38 points, 1.91
The Baltimore Ravens are 7 1/2 point favourites to win:
Baltimore Ravens, -7.5, 1.95
Houston Texans, +7.5, 1.86
-
The big question for this game is going to be - can the Texans successfully move the ball against the Ravens?
The Texans will obviously be relying heavily on the likes of DeAndre Hopkins and Lamar Miller to power their offence, though both players are likely going to get bogged down in the defensive schemes of the Baltimore Ravens. You can safely assume that Hopkins will be doubled all night long, which will put even more pressure on the rest of the Texans' receivers.
The Ravens will be contending against a Texans defence that is certainly not what they used to be, largely thanks to the season-ending injury to JJ Watts. The Ravens have had trouble putting up points this year, which is why the total for the game is so low.
-
This should be an absolute slog of a contest, as both teams will likely have a hard time scoring.
Don't expect too much entertainment on Monday night, unless, of course, you enjoy defensive football.
Odds Source
: William Hill