Detroit Pistons and Denver Nuggets Combined for 370 Points on December 13th, 1983
Published on March 12th, 2021 12:01 am EST
Written By:
Dave Manuel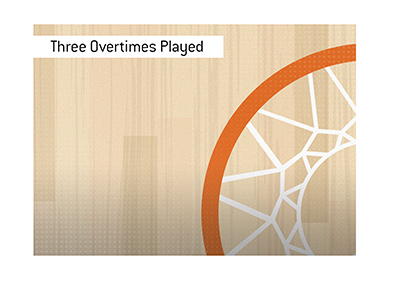 With all of the offensive talent that the NBA now possesses, it may surprise you to learn that the two highest scoring games in NBA regular season history both took place in the early 80s.
The highest scoring game of all time involved the Detroit Pistons and Denver Nuggets.
On December 13th, 1983, the two teams combined for a ridiculous 370 points. This is a full 33 points more than the next highest scoring game, which took place between the San Antonio Spurs and Milwaukee Bucks in 1982.
-
The December 13th, 1983 game between the Pistons and Nuggets ended with the Pistons winning by an eye-popping score of 186-184.
The game, as you can likely guess, went to overtime. As a matter of fact, three overtimes were played before the Pistons finally won.
The two teams combined for 142 field goals and 93 total assists.
Four players scored more than 40 points. They were:
Kiki VanDeWeghe, 51 points
Isiah Thomas, 47 points
Alex English, 47 points
John Long, 41 points
-
Here are the highlights from the game:
-
This is a record that will likely continue to stand for a very, very long time.