If You Add Yourself To Season Ticket Waiting List, You Will Likely Die Before Getting Them
Published on June 25th, 2023 4:07 pm EST
Written By:
Dave Manuel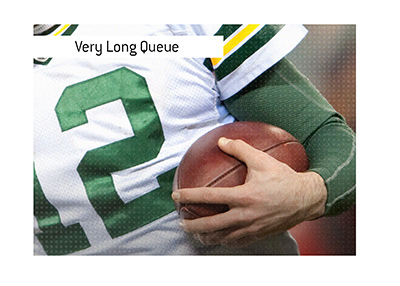 The Green Bay Packers have one of the most impressive waiting lists for season's tickets in all of sports.
There are 38,000 season ticket holders in the 81,000+ seat Lambeau Field.
For the vast majority of those ticket holders, you would have to pry the tickets from their dead hands in order to get them back.
For that reason, a very small number of tickets become available on an annual basis - usually no more than 100.
-
The current waiting list for Green Bay Packers season tickets is over 140,000 people, according to the team.
This means that a person who adds themselves to the list will be up for tickets in roughly
1,400 years
.
-
So why add yourself to the list at all?
There have been times when a number of tickets have become available at the same time.
For instance, the team will often identify people who are simply reselling season tickets for profit and rescind their eligibility.
Sometimes the team will add extra seating, like in 2013, when a total of 7,000 new seats were added to one of the end zones.
People who are adding themselves to the list now are likely hoping for some sort of major seating expansion in the future.
-
Publicizing the size of the waiting list is a genius marketing move for the Packers.
If somebody is mad after a poor season and is threatening to relinquish their tickets, the Packers can simply point to the size of the waiting list and say - do you really want to do that?