Green Bay Packers vs New Orleans Saints in 2011 Tops The List
Published on August 9th, 2023 4:05 pm EST
Written By:
Dave Manuel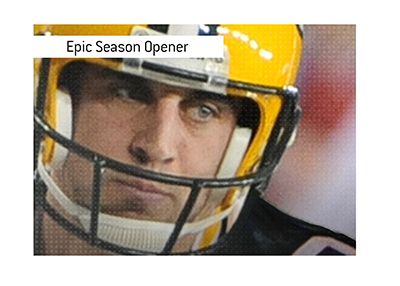 On paper, the 2011 NFL regular season opener between the New Orleans Saints and Green Bay Packers looked to be an unbelievable game.
Sometimes the regular season openers for the NFL can disappoint, as players are still getting into their rhythm.
The game between the Packers and Saints on September 8th, 2011, however, did not disappoint.
In fact, it is widely regarded as being the best NFL regular season opener of all time.
-
In 2011, Drew Brees and Aaron Rodgers were both still in their absolute primes, and it showed, as the two quarterback combined for over 700 passing yards.
The final score of the game was 42-34 for the Packers, as they managed to hold off the hard-changing Saints in front of 70,000 spectators at Lambeau Field.
The Packers struck early, with Aaron Rodgers connecting with Greg Jennings and Jordy Nelson for early touchdown passes.
Drew Brees would connect with Robert Meachem for a touchdown, making it 14-7. Aaron Rodgers would march the Packers straight back down the field in a little over 3 minutes, connecting with Randall Cobb for a 32-yard touchdown.
At the end of the first quarter, Aaron Rodgers had three passing touchdowns and the Packers were up 21-7.
The Saints would respond with a field goal and a 72-yard punt return touchdown from Darren Sproles to narrow the lead to 21-17, before a late second quarter rushing touchdown from James Starks made it 28-17 heading into the half.
The Saints would narrow the lead to 8 early in the second half, thanks to a John Kasay field goal.
The Packers, as they would do all game, quickly responded, with Randall Cobb taking a 108-yard kickoff return to the house for a touchdown.
The Saints would march down the field and score a touchdown of their own, with Brees connecting with Devery Henderson for a 29-yard touchdown pass.
The Packers would score a touchdown to start the fourth quarter, with John Kuhn taking it in from the 1-yard line to make it 42-27.
The Saints would score a touchdown with 2 minutes left in the half, with Drew Brees connecting with Jimmy Graham for a 5-yard touchdown throw.
Despite a late charge from the Saints, the Packers were able to hold them off for a 42-34 victory.
-
Drew Brees would throw for 419 yards and 3 touchdowns, while Aaron Rodgers would throw for 312 yards and 3 touchdowns.
The game had plenty of exciting moments, as there was a punt return TD, a kickoff return TD and six passing touchdowns.
The skill players in the game represented themselves nicely, and the two future Hall of Fame QBs in the game, Aaron Rodgers and Drew Brees, showed why they were so great.
-
It is going to be hard to top this NFL season opener.