Montreal Canadiens and Quebec Nordiques Game Featured 11 Player Ejections
Published on June 2nd, 2023 7:13 pm EST
Written By:
Dave Manuel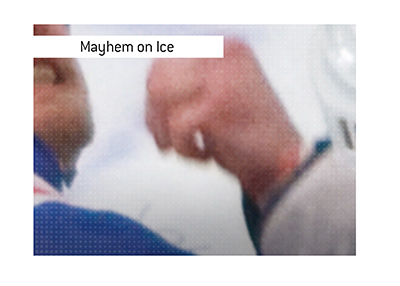 The Montreal Canadiens and Quebec Nordiques used to have one of the best rivalries in all of hockey, which is why it was such a shame when the Nordiques packed up and moved to Colorado.
The Canadiens and Nordiques combined for hockey's most infamous brawl - the "Good Friday Massacre".
-
The Canadiens played host to the Nordiques on April 20th, 1984. The Canadiens were up 3-2 against the Nordiques and looking to close things out on home ice.
The series had been chippy, though nobody knew the mayhem that was about to break out in Game 6.
-
Wilf Paiement and Mike McPhee would set things off less than a minute into the game, as the two players engaged in a fight in order to fire up their respective clubs. Standard stuff for a playoff game.
The Nordiques would take a 1-0 lead early in the first period, and the chippy play would continue.
The second period is where things really went sideways, as the two teams were in the midst of a nerve-wracking 1-0 game. After a number of roughing and fighting penalties with 2 minutes left in the second, things really took a turn for the worse.
A full-on line brawl broke out at the end of the second period, with Dale Hunter, Mark Hunter, Mike McPhee, Mario Tremblay, Richard Sevigny, Wally Weir, Peter Stastny, Louis Sleigher, Clint Malarchuk, Randy Moller and Chris Nilan all getting tossed from the game.
It was sheer madness, as the second period was ended without the penalties being announced, so players didn't know that they had been booted from the game.
After hearing that they were about to be ejected anyways, the players engaged in ANOTHER brawl before the third period officially got underway.
The subject of the attack was Quebec Nordiques player Louis Sleigher, who had knocked out Jean Hamel cold with a sucker-punch during the first brawl. The Canadiens went after Sleigher at the start of the third, setting off the next round of fights.
In total, 11 players were ejcted, and 252 in penalty minutes were handed out.
-
The Montreal Canadiens would go on to win the game by a score of 5-3, as 7 goals were scored between the two sides in the final period.
-
Some notes from this game:
1. The referee for the game, Bruce Hood, was heavily criticized for how he handled the game, and eventually retired after the playoffs ended.
2. Jean Hamel sustained a serious eye injury, and after re-injuring the eye in a preseason game the following season, elected to retire.