Who Would Win This Dream Fight Between Two of the Best Wrestlers In the UFC?
Published on November 2nd, 2018 4:16 pm EST
Written By:
Dave Manuel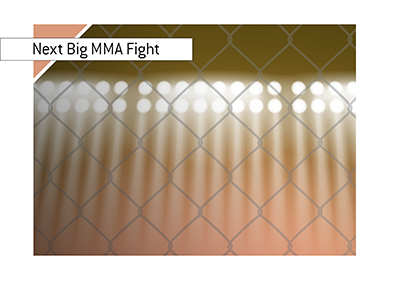 According to multiple reports, the UFC may be trying to put together a fight between current Lightweight champion Khabib Nurmagomedov and former Welterweight and Middleweight champion Georges St. Pierre.
The talk of an immediate rematch between Khabib and Conor McGregor have fizzled in recent weeks, with even McGregor indicating that he'd be prepared to fight somebody else. In reality, there is not much reason to think that McGregor would do better in a second fight against Nurmagomedov, so him moving on would probably be best for both sides.
The natural inclination is to give Tony Ferguson the next fight against Khabib - after all, the UFC has tried to make a Ferguson/Nurmagomedov a handful of times, and Ferguson is clearly the top contender for the title.
The biggest problem with this scenario? There are bigger fights that will make the promotion more money.
One such fight? Khabib vs Georges St. Pierre, the former Middleweight and Welterweight champion. According to rumours, the fight may take place at 165 pounds.
The rumoured fight certainly does make the mind wander - Khabib has shown no issue in getting his opponents to the ground, though GSP is a different beast who has one of the best takedown and takedown defense games in the entire promotion. The idea of Khabib taking GSP down at all seems far-fetched at best, and Khabib would have to consider the possibility that he might get taken down as well, which would obviously be a first for him.
The fight would obviously attract a great deal of interest, as Khabib is currently one of the biggest stars of the MMA world and St. Pierre is a legend that can still sell nearly a million PPVs. Despite UFC President Dana White and GSP not enjoying the best relationship, all of those feelings could certainly be put aside if it meant big paychecks for everybody.
-
Georges St. Pierre has opened as the favourite to beat Khabib, should the two ever meet in the Octagon. Here are the current odds for the rumoured fight, courtesy of a major offshore sports book:
Georges St. Pierre, -175
Khabib Nurmagomedov, +155
Based on these odds, a successful $175 wager on GSP would yield a total return of $100, while a successful $100 bet on Khabib would return a total of $155.
-
Georges St. Pierre would likely enjoy a size and strength advantage in this fight, which would likely prove to be very difficult for Khabib. Given GSP's proficiency on the ground, the idea of Khabib manhandling St. Pierre and keeping him on the ground seems remote, at best.
If the fight was kept standing, you'd likely have to give GSP the advantage, largely due to his powerful jab.