The Odds for the 2014 World Cup Qualifying Playoffs - Europe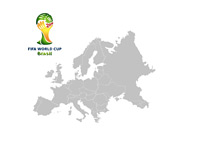 The odds have been posted for the European World Cup qualifying playoff matches which will take place on Friday, November 15th, 2013 and Tuesday, November 19th, 2013.
The odds for the first leg matches are:
Portugal: 4/5
Draw: 23/10
Sweden: 16/5
Ukraine: 17/10
Draw: 21/10
France: 6/4
Greece: 4/5
Draw: 11/5
Romania: 10/3
Iceland: 12/5
Draw: 11/5
Croatia: 11/10
To qualify to the World Cup odds are:
Portugal: 8/15
Sweden: 11/8
Ukraine: 2/1
France: 4/11
Greece: 8/13
Romania: 6/5
Iceland: 7/2
Croatia: 1/6
Looks like Portugal, France, Greece and Croatia are the favourites to qualify for Brazil.
It will be interesting to see how things evolve.
Ronaldo vs. Ibrahimovic. Sounds good!